Director talked about his combative writing relationship with wife Ebru Ceylan and his love of ambiguity on the big screen during a Qumra masterclass.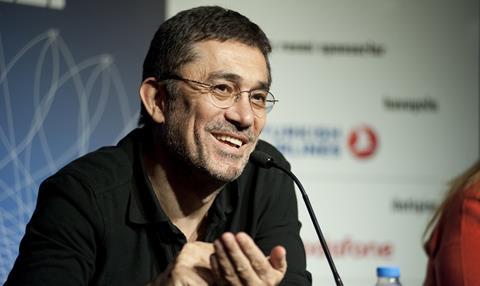 Turkish director Nuri Bilge Ceylan — taking a break from writing the screenplay for his next feature after his 2014 Palme d'Or-winner Winter Sleep — is participating in the Doha Film Institute's Qumra event this week as one of its "Qumra Masters".
The filmmaker gave a master-class to a packed auditorium at Doha's Museum of Islamic Art on Sunday, touching on his late start as a director, love of Russian playwright Anton Chekov and use of ambiguity as a dramatic device, through his films Distant (Uzak), Climates, Once Upon A Time In Anatolia and Winter Sleep.
Ceylan, 58, said he started directing relatively late on in life due to the fact it was so expensive to make a feature prior to the arrival of digital technology.
Late start
"I was 36-years-old," he said. "It's better to start earlier because you're not afraid of anything when you're young. It's easier to make mistakes and making mistakes is the best teacher in this business."
Prior to focusing on filmmaking, Ceylan went travelling to India, Nepal and the UK, where he worked as a waiter, before heading back to Turkey to do military service.
"Military service was good for me because for the first time I didn't have to make decisions. I read a lot of books and one of these books [a Roman Polanski biography] made me think about becoming a film-maker," he said.
Unable to break into Turkey's cinema establishment, Ceylan started out making low-budget works, using a stripped down crew and friends and family for the cast.
He made his 2002 Cannes Grand Prize of the Jury winner Distant (Uzak) about a depressed Istanbul photographer playing begrudging host to a cousin from the sticks, for just $90,000 and with a crew of two – himself and a focus-puller.
"That's the only obligation actually, with a focus puller you can make a movie," he said, prompting laughter in the audience.
Collaborations
He explained that he had first hired a camera operator for his 2006 Climates because he was also co-starring opposite his wife Ebru Ceylan, making it impossible for him to shoot and direct at the same time.
It was the beginning of an on-going collaboration with Gökhan Tiryakii — now one of Turkey's top cinematographers - who Ceylan initially took on simply because he happened to be working at a camera equipment shop where he had hired the equipment.
The tale of a disintegrating marriage, Climates was also Ceylan's first co-writing collaboration with his wife Ebru, who co-wrote the screenplays for Three Monkeys, Once Upon A Time In Anatolia and Winter Sleep.
"Since she is my wife she has the right to say anything. We fight a lot actually sometimes till the morning but it's very useful. After Winter Sleep she decided not to work with me again," he said.
"I said ok, no problem and I started the next project myself but I didn't like it so I've convinced her to get come on board again."
Talking after the masterclass, Ceylan said he is currently writing a new screenplay, having abandoned another project last year, but would not reveal any other details.
"I'm planning to shoot this autumn but everything else is a secret at the moment. It's better if it's a secret. If I tell other people my motivation decreases," he said.
Writing and storytelling process
The director revealed writing was a difficult stage for him. "You struggle and there are moments you feel you will go nowhere. Some days after the struggle, there is a script, and you forget the process. My script changes with time, and today, I write with a keen sense of what I can shoot."
The final version of the story often comes together in the editing room, he said: "Editing is very important to me, I am obsessed with editing. Even if you are a very experienced filmmaker you cannot foresee what will happen during editing. You go on writing the script as you edit, you change things. Since I know this reality, I shoot many alternatives now, with the help of technology I can afford to do that as I couldn't do that before with 35mm."
He said the screenplay for Winter Sleep – based on Chekov's short story The Wife – had been the most challenging of his career.
"I had it in my mind for 15 years but never felt confident enough to make it until that time," he said. "We wrote it in about six months. It was a challenging film with a lot of philosophical, heavy dialogue and I was really afraid of that. But I need something to be afraid for each film. That is the motivation for me. If you are afraid of something, you work harder. If there is no danger, you are more lazy."
Ambiguity and gaps
Quizzed about open-ended storylines in his film Once Upon A Time In Anatolia, Ceylan said: "I have my answers but I prefer to hide them… Cinema becomes deeper when there is well-controlled ambiguity, I don't want straight answers. I believe that the audiences should find the answers and create the answers for themselves, fill the gaps according to their own needs. I am not a teacher, am not sure of anything, and I myself am trying to learn things."
Ceylan is one of five Qumra Masters at DFI's talent development Qumra event — running March 4-9 in Doha – alongside screenwriter, director and leading US indie producer James Schamus, Russian director Aleksandr Sokurov, Japanese filmmaker Naomi Kawase and two-time Academy Award nominated US documentarian Joshua Oppenheimer.
Also from Qumra: James Schamus: Gulf can learn from China's box-office boom