A slate of 12 upcoming features seeking French and European co-producers and sales representation were presented at the event running within the Champs-Elysées Film Festival in Paris.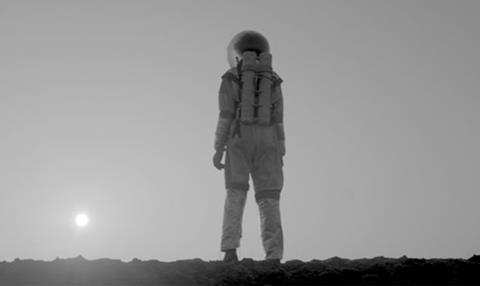 Ghanaian New York-based director Frances Bodomo's upcoming feature Afronauts, based on the real-life tale of a Zambian bid to enter the space race shortly after the country gained independence in 1964, was one of the projects drawing strong buzz at the Paris Coproduction Village running June 8-10.
"On the basis of the number meetings booked this was one of the most popular projects on the table although of course a lot will happen behind the scenes with other projects which we'll only hear about later," commented the event's head of industry Jeremy Zelnik.
Some 100 producers and sales agents from France and Europe attended the event with companies sending representatives including The Match Factory, The Works and Level K alongside local attendees such as Haut et Court, Bac Films and MK2 Films.
US producer Ryan Zacarias of Los Angeles-based Nomadic Independence — whose credits include Jonas Carpignano's Mediterranea, Michael Tully's Ping Pong Summer and Matt Potterfield's I Used To Be Darker — flew into Paris for Afronauts, looking specifically for producers and financiers as well as to touch base with sales agents.
Zacarias said the project had gone through a trio of Sundance development labs and that the plan was to shoot the film in 2017. He and Bodomo had already location scouted in Africa and were now turning their attention to cast, which would most likely be amateur with one professional in the lead role of the scientist leading the drive to launch Africa's first space rocket.
"We'd like to shoot in Zambia but it will also be down to how we finance the film and what rebates are available," said Zacarias. "We're still figuring out how to package the film, whether it's going to be US equity with some soft money out of France and Germany or whether it will be a true co-production leaving-out the US?"
A short film version [pictured] of the idea competed for the Golden Bear short at the Berlinale in 2014.
Zacarias revealed he had left the set of Carpignano's latest film A Ciambra, which is currently midway through a 10-week shoot at a Roma encampment near the port of Gioia Tauro in the southern Italian region of Calabria, to attend the Paris meeting.
"It's a challenging film and I was wondering whether I should leave but my co-producers on the film were like 'Go and do your thing' and I'm glad I came because the response has been great," said Zacarias. "I didn't come here expecting someone to write a cheque but all in all it's been a rewarding trip."
Other projects generating strong interest included Brazilian director Aly Muritiba's thriller Blood-Drenched Beard, about a young man who sets out to solve the mystery behind the killing of his grandfather in a former fishing village-turned-surfing destination; Irish filmmaker Ian Fitzgibbon's black comedy Dark Lies The Island and God Exists, Her Name Is Petrunija by Macedonian director Teona Mitevska.
The latter project marks a fifth feature-length film for Mitevska after works including the 2012 Victoria Abril-starring The Woman Who Brushed Off Her Tears. The new film revolves around a woman who breaks a long-standing religious tradition when she catches a cross thrown into local waters by a priest as part of an Epiphany ceremony reserved only for men.
The family-run production company Sisters and Brother that Mitevska runs with her siblings was in Cannes this year as a co-producer on Cristi Puiu's Sierranevada. French cinematographer Agnes Godard is attached to Mitevska's new film.
"I think people were drawn to the genre aspect of Blood-Drenched Beard while God Exists, Her Name Is Petrunija had a strong pitch," commented Zelnik.
Talking about Dark Lies The Island, County Wicklow-based producer Malcolm Garland said his dream find at Paris would be a French sales agent for the film which is due to shoot at the end of 2016.
He describes it as a dark comedy set in a forgotten village in the middle of Ireland populated by a series of larger-than-life, off-the-wall characters whose lives collide after a body is fished from a local lake.
It is based on a collection of short stories by Irish writer Kevin Barry who has adapted the work for the big screen. Casting is currently underway for the ensemble cast.
Cinefondation
Alongside the Paris Co-production Village selection, another six productions currently being developed as part of the Cannes Cinefondation Residence programme were also presented at the meeting.
Buzzed about projects in that line-up include Egyptian director Omar El Zohairy's political allegory Feathers Of A Father, about a father who is mistakenly changed into a chicken during a children's magic show, and Brazilian filmmaker Gregorio Graziosi's Tinnitus about a woman desperate to escape the ringing in her ears.
Colombian Focus
This year's Paris Co-production village also welcomed three Colombian projects as part of a special focus on the cinema of the Latin American country.
The projects comprised Rafael Martinez's The Stone, a personal redemption tale revolving around a boxer who is paid to lose; Cesar Heredia's The Tailor – a tale of intrigue and unrequited love set against the backdrop of the real-life siege of the Palace of Justice in Bogota by guerrillas in 1985, and Alfonso Acosta's murder mystery drama Almost Never Too Late in which a rebellious student wrongly accused of killing his school principal.
The Paris Co-production Village was launched in 2014 by the same team which runs Les Arcs European Film Festival in the French Alps in December. It was supported this year by Colombian cinema body Proimagenes Colombia and France National Cinema Centre (CNC).