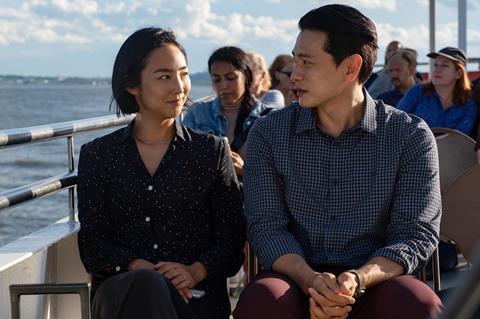 As the Berlinale Competition nears the halfway point, Celine Song's Past Lives is leading Screen's Berlin 2023 jury grid with an average score of 3.6.
The romantic drama is way out in front after receiving five four-star ratings from critics – the highest mark meaning "excellent".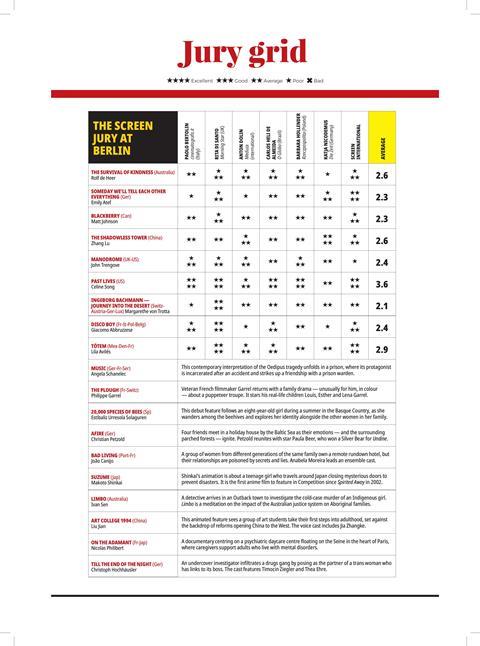 Anton Dolin from Meduza and Katja Nicodemus from Die Zeit marked it lower, at three and two stars respectively.
Song's debut feature follows two childhood friends from South Korea who reconnect for a few days in New York. It had its world premiere at Sundance last month.
Next in line is Zhang Lu's The Shadowless Tower on 2.6. The China-set drama was awarded one four-star rating, from Nicodemus, followed by a mix of two and three stars. The film is about a middle-aged single parent and food critic who wanders around Beijing's local eateries with his photographer while trying to find new perspective on life.
John Trengove's Manodrome and Giacomo Abbruzzese's feature deubt Disco Boy are tied on 2.4 each. Trengove's UK-US drama, which stars Jesse Eisenberg and Adrien Brody, has received a mix of two and three stars. Screen's critic gave the film one star. The film follows a man who, conflicted about his girlfriend's pregnancy, meets a mystery family of men.
Opinions were divided on Disco Boy which intertwines the stories of a French Foreign Legion fighter and a man trying to save his village in the Niger Delta from oil companies. Both Dolin and Nicodemus gave the film just one star while Rita di Santo from the UK's Morning Star awarded it four.
Margarethe von Trotta's Ingeborg Bachmann — Journey Into The Desert has received the lowest score so far with 2.1. Five of the critics gave the film two stars with Santo giving it four stars and Paolo Bertolin from cinematographo.it marking it with just one. Vicky Krieps stars as an Austrian poet who becomes embroiled in a stormy affair with Swiss writer Max Frisch, played by Ronald Zehrfeld.
The next titles to land on the jury grid will be Lila Aviles' Totem, Angela Schanelec's Music, Philippe Garrel's The Plough.