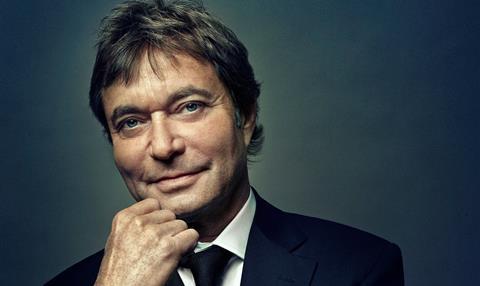 Legendary Summit and Lionsgate executive and sales titan Patrick Wachsberger is looking to China as a major new growth market for independent international fare.
Speaking at the Zurich Summit (30), Wachsberger, who is rumoured to be looking to launch a new venture and was listed in the official brochure as producer and founder of Picture Perfect Entertainment, told an audience of industry executives that China is at last beginning to open up to a more varied diet of foreign films.
"Look, China is big market," said Wachsberger, citing examples of local films that have made the equivalent of $450m at the Chinese box office. "There is going to be consolidation. Only the strong will survive. But there is going to be a new generation of distributor and I do believe and hope that the Chinese audience in Tier 1 and Tier 2 cities is becoming more sophisticated."
Wachsberger predicted "specialty" movies would be "distributed in China properly" by a new generation of film distributors and pointed to the success in China of Lionsgate's La La Land as evidence of already changing tastes. "It is not going to be only those big Hollywood movies."
Roeg Sutherland, co-head of the film finance and sales group at CAA, conducted the interview with Wachsberger in Zurich.
During the interview, the sales, distribution and finance veteran reaffirmed his commitment to theatrical releasing. "Those streaming platforms are important but for me, primarily it is about the theatrical experience," said Wachsberger of his approach to distribution, adding that many filmmakers still prefer to have movies seen in cinemas.
"The streamers like Netflix are also in some case going through the theatrical experience. It happens to be day-and-date but they really want some of the movies they are financing to be theatrically released."
Asked by Sutherland if it would be possible today to set up a company like Summit Entertainment, which in 2007 arranged a $1bn financing deal and struck a series of highly lucrative international output deals, Wachsberger acknowledged it would be tough.
"[But] I think somebody could do it," he said. "We raised more than $1bn through Merrill Lynch and a group of investors. Jeff Skoll [Participant Media founder] was a very, very important participant in that transaction."
"The first few movies were a pretty big disaster. Thank god, Twilight came and changed everything," he commented. "The reality today is that I am sure there are people talented enough and money available."
Wachsberger has seen downturns and upheaval during his lengthy career but said the disruption currently in the independent film business was more "radical" than anything he has experienced before.
However, he cited the health of the international market, which currently represents 72% of global box office and $28.8bn in annual gross revenues, as proof that the business is still viable.
Sutherland reminded Wachsberger of the difficulty today in financing independent English-language films in the international marketplace, especially when territories like the UK were so – as Sutherland put it – "challenged".
"There are not that many distributors left in the UK, that's true," Wachsberger acknowledged. "But you still have the US blockbuster movies doing an average of between $40m and $50m at the UK box office so it's still a pretty substantial amount of money."
Wachsberger was named International Distributor of the Year at CineEurope in June. A celebratory short film shown before his interview in Zurich and narrated by Sutherland's father, actor Donald Sutherland, praised him as "architect of a global distribution infrastructure [at Lionsgate] encompassing nearly 20 output deals, generating over $10bn in global box office in the past six years."