EXCLUSIVE: "We're going through a sea change," Lionsgate executive says of the film business today.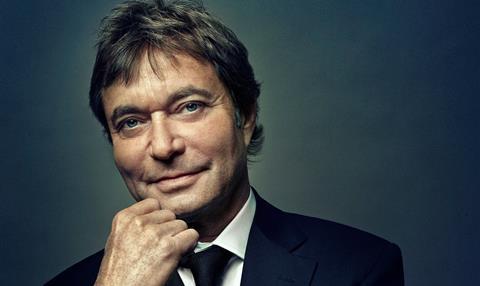 This Sunday, industry veteran and sales supremo Patrick Wachsberger, co-chairman, Lionsgate Motion Picture Group, will be honoured at the Zurich Film Festival with the event's Game Changer Award, which is bestowed on an individual who has been able to "successfully navigate through the aggressively changing entertainment landscape."
Wachsberger's more than 30-year navigation of those choppy waters has seen him play a pivotal role in two billion-dollar franchises, multiple Oscar and Palme d'Or campaigns and two of the industry's most successful independent film companies of recent decades.
However, the film business is more unpredictable than ever claims the former Summit boss, who spoke to Screen shortly before the surprise news that fellow Lionsgate co-chair Rob Friedman is to leave the company.
"We're going through a sea change," says the energetic LA-based Frenchman. "The business is moving more rapidly now than at any point in my career."
One ingredient remains constant, however: the importance of building and maintaining relationships.
"When I have focused on international sales, it isn't only about waiting for the markets to come round," he says.
"It is about going to see buyers on their home patch. It isn't only about reading Screen, you need to travel to really understand distributors' needs and in order to forge long-term partnerships."
The evergreen Wachsberger, who exudes a boyish charm, has worked in the industry for close to 50 years. However, during his 30 years in the sales sector he is proud to remind that he has only worked for four companies: J&M Entertainment, Odyssey, Summit and Lionsgate.
"Since the '70s, I've probably been unemployed for one day. That is pleasing."
"The early highs – when you're a little less blasé – are very exciting," he recalls about his career highlights.
"When Pelle The Conqueror won the Palme d'Or in 1988 [it would also go on to win the Best Foreign-Language Film Oscar], I think I jumped out of my seat. I had just started Odyssey and that was the first film for us. My bedroom at the Carlton doubled as my office."
"Along the way there were others: on Memento, my colleagues said your English must be bad because this makes no sense. Lock Stock And Two Smoking Barrels, Requiem For A Dream, Bound, those were great moments.
"Then came Step Up – I had always wanted to do a dance movie – and Twilight…"
Few franchises have proven more transformative in the independent business than Twilight, which has grossed more than $3bn worldwide at the box office alone.
"Twilight was a game changer for everyone involved," he admits.
It could have been very diferent, however.
"Robert Pattinson only came in three weeks before shoot," says Wachsberger. "An assistant, who has subsequently become a very successful executive, said, 'There's this guy called Rob Pattinson from the fourth Harry Potter…' I said, 'Well, let's fly him in from London'.
"He did his screentest and he got the job. I'm not going to tell you how little the salary was on the first one but of course lawyers were there to renegotiate deals following its success."
Could we see another episode in the Robert Pattinson-Kristen Stewart behemoth?
"It's a possibility," he says. "Not a certainty but it's a possibility. It's about Stephenie [novelist Stephenie Meyer]. If she wants to tell a story related to those characters we're here for her."
Wachsberger has excelled in the franchise arena, from Twilight to Step Up and The Hunger Games to Lionsgate's current teen standard bearer, the Divergent series.
The executive confirms recent trade reports that the final instalment of the latter will be repositioned as a TV movie followed by a TV spinoff: "That's a fair statement, yes," he says. "That's the plan. The property has moved to the TV division now."
As for future Twilights, Wachsberger is most excited about development properties The Kingkiller Chronicle and Patrick Ness's Chaos Walking.
"The Kingkiller Chronicle is definitely a franchise. It is three books, a fantastic world. It has all the potential to be a very big franchise. It's not dissimilar to the world of The Lord Of The Rings."
Inevitably, there are those films that got away. The one that stands out for Wachsberger is his old friend Roman Polanski's 2002 drama The Pianist, which won three Oscars and took more than $120m worldwide.
"Roman gave me the book", he recalls.
"I was going to Brittany for a break. I thought to myself: 'Do I want to see another Holocaust film?' There had been Schindler's List, Life Is Beautiful, Jakob The Liar… I didn't know what to say. Roman did the hard sell on me, reminding me that he was asked to do Schindler's List. But ultimately I passed on it. When I saw the movie, I thought: 'Oh dear.'"
Wachsberger has taken every available opportunity to work with Polanski since, including the director's next project, the thriller Based On A True Story, which is set to star Eva Green and Polanski's wife Emmanuelle Seigner. Lionsgate handles international.
"We are going to start shooting in November," he says.
Despite mixed fortunes at the domestic box office this year, the immediate future looks promising for the indie major. Lionsgate is sitting on a red-hot awards contender in the shape of La La Land, potential multiplex hits in Deepwater Horizonand Hacksaw Ridge and a possible franchise breakout early next year in Power Rangers.
Coming into view in 2017 are Julia Roberts drama Wonder, which Wachsberger predicts could see similar success to La La Land, and Peter Berg's Boston bombings thriller Patriot's Day. "The dailies look absolutely stunning," he says.
"I love it here," enthuses Wachsberger about the company. "I have a lot to achieve here for my own benefit. There is an incredible team and there are no silos between the creative, commercial and TV businesses."
With Lionsgate facing a potential strategic shift following its $4.4bn deal to acquire premium TV company Starz, that fluidity could foster new opportunities.
Wachsberger, one gets the impression, will never be too old to learn a new trick.
With that in mind, and after all he has learnt, what advice would the Game Changer offer those entering the sales and finance arena today?
"Good taste, hard work and figure out a way that works for everyone. It's a combination of being the poet and the engineer."