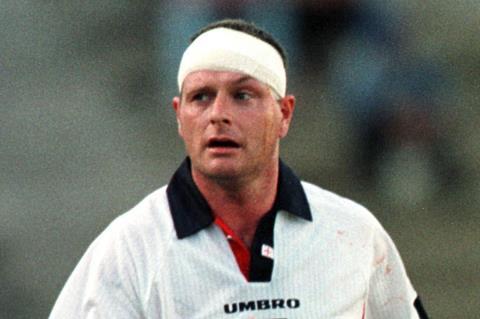 The UK's Western Edge Pictures has wrapped principal photography on Sampson Collins' feature documentary Gazza, about the life and career of English football star Paul Gascoigne.
The documentary is made of archive footage, including previously unseen material. Contributors include family members, former teammates, close friends, and journalists – including some convicted of phone hacking from the latter group.
Collins' credits include the 2015 cricket documentary Death Of A Gentleman. Tom Wood (recently named a Screen Star of Tomorrow 2020) produces for Western Edge alongside Will Kane and the company's CEO Vaughan Sivell. It is executive produced by Keith Haviland and Mark Stewart, who are financing through Haviland Digital and Mark Stewart Productions, alongside Western Edge through its Gennaker fund.
Gascoigne is working closely with the company on the documentary.
"This is the real story of my time in football – the good and bad of who I am – and what really happened around me," he explained. "So much of this has never been seen before. It feels good to be telling my side of the story."
Moving forward
Western Edge is readying two further features it hopes to shoot in 2021. Crusaders, written and directed by Sivell, will begin filming in Morocco in early 2021, produced by Sivell, Kane, Wood, and Mark Hopkins. The medieval comedy-adventure is about five battle-worn knights who are sent to rescue a nobleman they despise and deliver him to France against his wishes.
The company is also aiming for Timestalker, the second feature from UK actor and filmmaker Alice Lowe, to go into production in early spring 2021. It is written and directed by Lowe and produced by the same team as Crusaders. The comedy follows an incurable romantic caught in a loop of meeting the same wrong man and befalling a horrible death.
Lowe and Western Edge previously collaborated on her debut Prevenge, a BIFA debut film nominee in 2016.
"This is an incredibly exciting time at Western Edge Pictures," added Sivell. "From Gazza, that we kept in production throughout the pandemic, to our ongoing relationship with Alice Lowe on Timestalker and my own Crusaders - our slate is busier and more varied than ever."