Writer of The Crown, Frost/Nixon and The Queen to receive honour at annual BFI chairman's dinner.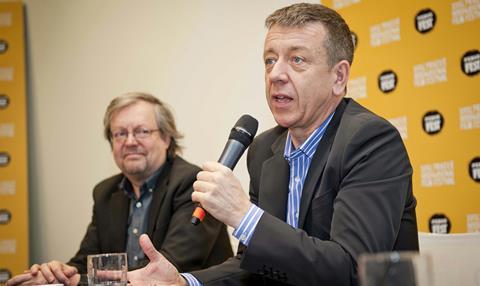 British screenwriter and producer Peter Morgan CBE will be awarded the BFI's highest honour, the BFI Fellowship, at the annual BFI chairman's dinner, hosted by BFI chair Josh Berger, on February 21, 2017, at Claridges, London.
Morgan's writing career includes Frost/Nixon (2008), The Queen (2006), The Last King Of Scotland (2007), Rush (2013) and, most recently, Netflix TV series, The Crown (2016).
The Crown, created and written by Morgan, was the winner of Best TV Drama at this year's Golden Globes; a second series has been confirmed.
A number of BFI's Fellows have writing credits to their name, but Graham Greene and Lynda La Plante are the only other recipients who are known principally as writers for television and film.
BFI Fellows include Tim Burton, Clint Eastwood, Judi Dench, Martin Scorsese, Jeanne Moreau, Stephen Frears, Steve McQueen, Cate Blanchett, John Hurt, Maggie Smith and Hugh Grant.
Josh Berger, BFI chair, said: "I am absolutely thrilled to be recognising Peter Morgan's rare talent and enormous contribution to both the big and small screen with a BFI Fellowship. He is rightly one of our most fêted and accomplished screenwriters, with a career spanning almost 30 years and delighting generations of audiences with his work.
"Peter has an uncanny knack for getting under the skin of prominent figures to portray an eclectic range of real life personalities, retelling the most iconic moments in our recent history and the individuals at the heart of them, to make engaging, elegant and accessible stories.'"
Morgan added: "I couldn't be more surprised, thrilled or proud to receive this honour - and look forward to being suitably teased and abused on the night."