More than 30 film projects in development set to be presented at the Bogota Audiovisual Market (BAM).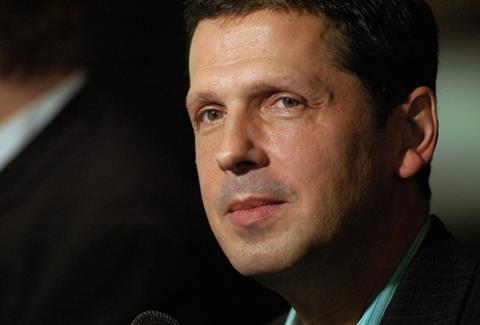 Scroll down for full list of projects
Peter Webber's $2m docu-drama One River (El Rio) and Miguel Urrutia's English-language thriller Madness are among 33 film projects in development being presented this week at BAM (July 13-17).
Colombia's biggest film market also features 18 screenings of films in an advanced state of development, alongside the regular BAM Projects category.
Webber (The Girl With The Pearl Earring) attended BAM last year to promote his pickpocket drama Fresh and returns this year with One River.
The project is based on an international best-selling book by Canadian Wade Davis, charting Professor Richard Schultes' journey through the Amazon in the 1940s and the author's own travels into the same jungle 30 years later, living among the Indian tribes and searching for the origins of coca, the notorious source of cocaine.
Currently in development, the project is being produced by Colombian outfit 4 Direcciones in partnership with Canada's Pimiento Films. They have secured 10% of the funding and are looking for further financing for the scriptwriting, currently in the hands of Diana Rico and Richard Decaillet.
Madness
Colombian director Urrutia's Madness is another stand-out project, also set in the Amazon and budgeted at an estimated $2m.
Based on a script by US writer Robert McKee, it is a dark thriller about husband and wife psychiatrists who find a cure for madness in the jungle, but then a disturbing incident forces them to confront their own discovery.
Proyeccion Films are producing the project, which is at the script stage and has already secured 50% of its budget.
"We are looking for strategic partners in Los Angeles who could help grow the project from a Colombian project to an international scale," says Juan Pablo Solano, the films producer, who has already approached the likes of Ben Kingsley and Brian Cox to star in the film.
A total 204 applications were submitted for this year's BAM projects, of which 33 films were selected by a team, including Cristina Garza, Executive Vice President of Mexico-based sales outfit Mundial, Uruguayan film editor Fernando Epstein and Stefan Laudyn, director of the Warsaw International Film Festival.
A further 12 TV projects were chosen.
Sock Mates
One of the other notable projects around the $2m budget mark is Juan Manuel Betancourt's fantasy film Sock Mates, which combines animation and live-action, telling the story of socks looking for their perfect soul mates.
Gatoencerrado Films has already secured 20% of the budget and are now looking for international co-production partners.
Other projects include Federico Duran's psychological revenge thriller Dark Room set in a high school, which is being produced by Rhayuela Cine, and Carlos Moreno's Lost Wolves about two men involved in an accident that changes their lives. The film's producers, 64-a Films have a strong track record of success (Dog Eat Dog).
Some international delegates in attendance will be looking to work with a South American company for the first time, such as Canadian producer Felize Frappier of Max Films Media.
Frappier told ScreenDaily: "I've come to BAM to get to know the South American market and hopefully find a co-production partner for my new project Sunbathing in Hell, which is similar in style to Thelma & Louise, set across Canada and Mexico, and will be directed by Guy Edoin (Wetlands)."
The film is only at the script stage and not an official project at BAM.
BAM PROJECTS 2015
Fiction
The Life & Death of Espiritu Perdomo
Dir Mauricio Leiva Cock, pro Mauricio Leiva Cock, Mauro Mueller and Juan Diego Villegas
Candelaria
Dir/pro Jhonny Hendrix
Clara Alone
Dir Nathalie Alvarez, pro Cristina Gallego, Katrin Pors, Nima Yousefi, Peter Krupenin
Dark Room
Dir Federico Durán, pro Diana Narvaez
Disobsession
Dir Jorge Navas, pro Diana Bustamante and Jorge Forero
The Wolf's Breath
Dir Alfonso Acosta, pro Carolina Mosquera
The Contestant
Dir Carlos Osuna, pro Juan Mauricio Ruiz
The Ultra Violet Pattern
Dir Ruben Mendoza, pro Daniel Garcia
One River (El Rio)
Dir Peter Webber, pro Richard Décaillet, Diana Rico
Wet Matches
Dir Sebastián Duque, pro Lina Marcela Rizo
Hado
Dir Alejandro Ramirez, pro Angie Carolina Gomez
Strong Island
Dir/pro Juan Uribe
The Dragon Defense
Dir Natalia Santa, pro Ivette Liang
Lost Wolves
Dir Carlos Moreno, pro Diego Ramirez
Madness
Dir Miguel Urrutia, pro Juan Pablo Solano Vergara y Simón Beltrán Echeverri
MC Silencio
Dir Germán Arango Rendón, pro Ana María Muñoz Guzmán
Sock Mates
Dir/pro Juan Manuel Betancourt
Makira Torra
Dir Juan Pablo Daguer, pro Gabriel Jaime Pérez
I'd Rather Not
Dir Ivan D Gaona, pro Diana Pérez Mejia
Psychopaths In Love
Dir Felipe Martínez Amador, pro Salvador del Solar
Tailor
Dir Cesar Andres Heredia, pro Maria Fernanda Barrientos
Animation
Autobotika
dir María Arteaga, Juan Cortés, pro Lola Barreto
Kogui
dir Diego Fernando Rojas, pro Andres Felipe Valdez
Black Sun Adventure
dir/pro Oscar Andrade Medina
The MiniSonic Band
Dir Andrés Julián Manrique, pro Luis Fernando Calderon Castaño
Documentary
Osshun
Dir Harold Romo, Carlos Castaño, pro Carlos Castaño, Harold Romo, Wilmer Sotto
El Rey vs El Diablo
Dir/pro Néstor Oliveros
Into Medusa's Heart
Dir Ricardo Restrepo, pro Patricia Ayala
Fait Vivir
Dir: Oscar Ruiz Navia, pro Gerylee Polanco / Oscar Ruiz Navia
Mister Tierra Bomba
Dir Josephine Landertinger Forero, pro Magnus Kossmann
Pilgrimage To The Gods
Dir Ricardo del Conde, Giuliano Cavalli, pro Giuliano Cavalli
Segovia
Dir Diana Bustamante, pro Jorge Forero/ Paola Andrea Pérez
Behind Bars
Dir Mónica Moya, pro Emmanuel Jaramillo