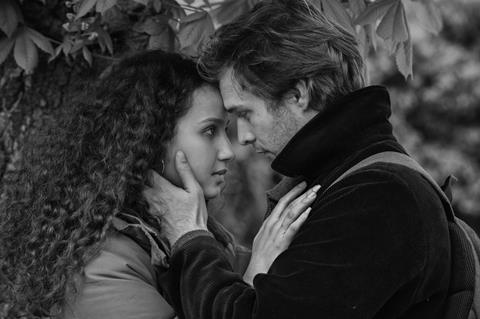 Source: G. Ferrandis 2019/Rectangle Productions Close Up Films - Arte France Cinéma RTS Radio Télévision Sui
New features by Philippe Garrel and Hong Sang-soo are among those set to compete for the Zabaltegi-Tabakalera Award – a strand at the San Sebastian Film Festival free of style or length constraints.
The section will comprise 10 features and nine shorts, which include a six-minute film by UK filmmaker Peter Strickland titled Cold Meridian.
Several selected features were previously seen at the Berlinale in February, including The Woman Who Ran from South Korean filmmaker Hong Sang-soo, which won the festival's Silver Bear for best director.
Other titles previously seen in Berlin include Philippe Garrel's The Salt Of Tears, Catarina Vasconcelos's The Metamorphosis Of Birds, Tsai Ming-Liang's Days, Sandra Wollner's The Trouble With Being Born, Song Fang's The Calming and Camilo Restrepo's Los Conductos.
New York-set drama An Optical Illusion, from Spanish director Juan Cavestany, will receive its world premiere. Nicolás Pereda's Fauna is set to debut at Toronto while Adilkhan Yerzhanov's Yellow Cat is scheduled to screen at Venice.
The winner of the Zabaltegi-Tabakalera Award will be selected by a jury and includes a €20,000 prize, of which €6,000 goes to the director and the remaining €14,000 is received by the film's distributor in Spain.
Zabaltegi-Tabakalera 2020
The Metamorphosis of Birds (Por)
Dir. Catarina Vasconcelos
Autofiction (US-Sp-NZ) short
Dir. Laida Lertxundi
Cold Meridian (Hun-UK) short
Dir. Peter Strickland
Correspondence (Sp-Chil) short
Dir. Carla Simón, Dominga Sotomayor
The Woman Who Ran (S Kor)
Dir. Hong Sang-soo
Dustin (Fr) short
Dir. Naïla Guiguet
Fauna (Can-Mex)
Dir. Nicolás Pereda
Having A Good Time (Chi) short
Dir. Bell Zhong
I Am Afraid To Forget Your Face (Egy-Fr-Bel-Qat) short
Dir. Sameh Alaa
The Salt Of Tears (Fr-Swi)
Dir. Philippe Garrel
Los Conductos (Fr-Col-Braz)
Dir. Camilo Restrepo
Perpetual Night (Por-Fr) short
Dir. Pedro Peralta
The Calming (Chi)
Dir. Song Fang
Days (Tai)
Dir. Tsai Ming-Liang
Stephanie (Bel) short
Dir. Leonardo van Dijl
The Trouble With Being Born (Aus)
Dir. Sandra Wollner
An Optical Illusion (Sp)
Dir. Juan Cavestany
Ya No Duermo (Sp) short
Dir. Marina Palacio Burgueño
Yellow Cat (Kaz-Fr)
Dir. Adilkhan Yerzhanov