EXCLUSIVE: UK distrib readies first pre-buys, Nick Cave to perform on UK release.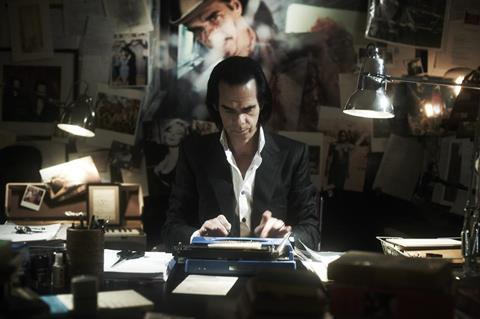 Picturehouse Entertainment and Film4's home ent arm 4DVD have acquired UK rights to Nick Cave music documentary 20,000 Days on Earth and Brian Hill serial killer doc Thomas Quick: The Making of a Serial Killer.
Picturehouse director of programming and acquisitions Clare Binns told Screen the company is "planning something special" for the release of 20,000 Days on Earth.
"We're hoping for a live performance with Nick Cave to coincide with the film's September 19 UK release," she said.
"We want to stage a unique event which will be beamed around the country."
The Pulse Films production, sold by Hanway Films, follows a fictional day in the life of acclaimed musician Cave.
BAFTA-winning director Brian Hill's intriguing doc Thomas Quick: The Making of a Serial Killer. charts the story behind Sweden's most notorious serial killer and explores new evidence that suggest Quick may not be a killer at all.
Producers are Film4, BFI and Century Films. Independent is shopping in Cannes.
The two films, along with recently announced horse racing doc Dark Horse, mark the company's first pre-buys. Both were acquired from the film's producers.
Binns said of the company's Cannes strategy: "We're looking for some buys here and some more pre-buys going forward. We've got some money in our coffers."
At Cannes last year the company acquired well-received US drama Blue Ruin. Since then acquisitions have included drama Concussion and Toronto pick-up Bright Days Ahead.
The exec said that the scope for acquisitions had become "much easier" since the company's acquisition by commercial UK exhibitor Cineworld.
Despite that, the company is yet to resolve a dispute over the ownership of two cinemas in Bury and Cambridge, which may have to be jettisoned in order to meet competition commission demands for exhibitor parity.
In the wide-ranging interview, Binns added that the company is considering a VOD platform.
She said: "We're looking at it. It's probably something we'll be involved in at some point but we're being cautious at the moment and monitoring the success and non-success of how people are managing the space. There is a lot of money being spent and I think there will be some losers out there."
Of the recent strikes at London's Ritzy cinema, the executive said: "There have been four strike sessions. We're trying to resolve the situation as fast as we can. It will be resolved by dialogue. We are trying to talk to each other and there have been conversations."