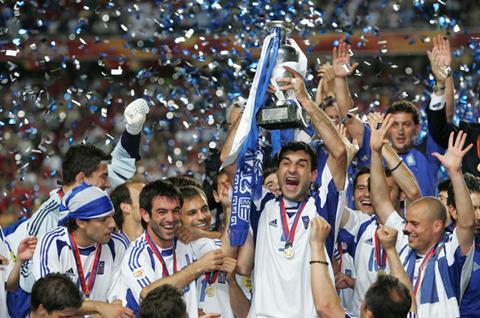 Piece of Magic Entertainment will give a global theatrical release this summer to King Otto, a documentary about the European Championship winning Greek football team and its maverick German coach, "King" Otto Rehhagel.
Piece of Magic Entertainment, best known for their successful Andre Rieu event cinema releases, are partnering with Cinema Nolita and producer Shani Hinton on the project, which is directed by Christopher André Marks.
The release date has not been confirmed but is expected to be in time for this year's Euros, which kick off on June 12.
King Otto tells the story of how, after achieving major success in his own country as player and coach, Rehhagel left his homeland to work for the underachieving Greek national team. They went on to win the 2004 European Championship despite having been 300-1 outsiders.
Marks is a Greek-American filmmaker making his feature debut; he previously worked with HBO Sports and ESPN Films (Tiger Hood).
He is also producing alongside Hinton. Ronald L. Chez (Magic In The Moonlight, Café Society) is the executive producer.
The agreement marks the second time Piece of Magic Entertainment will work on a documentary produced by Hinton, following the 2019 international theatrical release of Nick Broomfield's Marianne & Leonard: Words Of Love.
Amsterdam-based Piece of Magic Entertainment specialises in international theatrical distribution in the global marketplace. Established in 2017 by Caspar Nadaud and Pierre Rieu, the company's recent releases include Andre Rieu: 70 Years Young, which made over $2 million at the UK box office when it was released earlier this year, Todd Douglas Miller's Apollo 11 and Lauren Greenfield's Imelda Marcos: The Kingmaker.
It will next release Sir David Attenborough's feature documentary, A Life On Our Planet, which will premiere as a one night only Q&A event on April 16 at the Royal Albert Hall in London, broadcast in cinemas in select territories around the world.