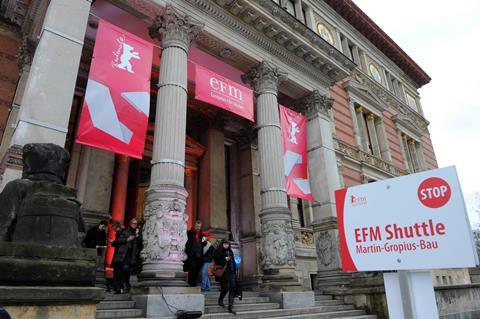 There is an air of anticipation among film professionals as they head to this year's European Film Market (EFM, February 20-27), which unfolds against the backdrop of Mariette Rissenbeek and Carlo Chatrian's first Berlinale at the helm. EFM attendees are curious to see how incoming artistic director Chatrian's debut selection will be received, by public and industry alike, and whether it will breathe new energy into the market.
"I sense there is support in the industry for Carlo and his first edition," says Thorsten Ritter, sales and acquisition chief at Munich-based Beta Cinema, which is selling Golden Bear contenders Berlin Alexanderplatz and My Little Sister. "There will be excitement in the first few days and then by Sunday everyone will have seen everything in the main competition thanks to private screenings and you will have the verdict."
Jean-Christophe Simon, CEO of Berlin-based Films Boutique, notes that Chatrian's ditching of the out-of-competition category, reducing the number of titles in Panorama and creating the Encounters sidebar has been largely welcomed by the industry. "Globally the industry thinks, 'Great,' because it gives more light to fewer films," says Simon, whose company is selling Iranian Competition title There Is No Evil and Charlatan, which will screen in the Berlinale Special section.
"We are all curious about the new Encounters section," he adds. "It is not clear if it's veering towards experimental cinema or going more in the direction of Un Certain Regard. I'll have to watch the films to understand."
Alison Thompson and Mark Gooder — co-presidents at London and Los Angeles-based sales company Cornerstone Films — will be experiencing this new section first-hand with their title Shirley, which arrives fresh from its Sundance premiere. Director Josephine Decker is a Berlinale Forum regular who was last at the festival with Madeline's Madeline in 2018.
"It's all new and it's all up for grabs. The section doesn't have a reputation yet," says Thompson, revealing that the film was selected by the Berlinale several months ago. "We didn't know which section it would be in because they were still figuring out the structure of the programme. We feel happy and comfortable with where the film sits in the festival, and so is the director, but ask us again in three weeks' time."
Thompson and Gooder arrive at EFM riding the wave of a highly successful Sundance. As well as Shirley, which premiered in US Dramatic Competition, they were also there with Phyllida Lloyd's domestic abuse drama Herself and Dream Horse, which both debuted in the Premieres line-up. Bleecker Street pre-bought US rights to Dream Horse back in May. Amazon Studios snapped up North American rights for Herself on the spot in Park City, and Neon bought North American rights for Shirley from Paradigm and UTA Independent Film Group.
"Sundance is terrific for creating the reputation for a film but the reality is that only a handful of international distributors attend Sundance so we need to be at the EFM to continue the work we've started in the States," says Thompson.
She acknowledges that the streamers dominated Park City, but says the North American deal to Amazon Studios is perfect for Herself because it leaves the rest of the world open for traditional distributors. "Yes, they are a streamer but they are very committed to a traditional release component, which is very helpful for propelling international sales," she says.
Gabrielle Stewart, managing director at London-based sales and finance house HanWay Films, suggests the platforms' Sundance spending spree could be good news for sales companies at EFM. "Because the streamers basically bought out Sundance for a second year running, a lot of the US buyers desperately need films and are looking at the EFM as a place to buy," she says.
This is a welcome development for Stewart, who is representing two Berlinale Special titles searching for US buyers: Andrew Levitas's biopic Minamata starring Johnny Depp as feted war photographer W Eugene Smith, and Italian director Matteo Garrone's Pinocchio starring Roberto Benigni, which has grossed more than $16m in Italy since its December release.
Locking in deals
Another consequence, Stewart adds, is that traditional US distributors appear to be returning to pre-buying after shying away from the practice in recent years: "They can't afford to wait until a film screens at a festival anymore," she says, pointing to Bleecker Street's pre-buy of Sally Potter's Golden Bear contender The Roads Not Taken, as well as John Patrick Shanley's upcoming love story Wild Mountain Thyme, for which HanWay will show first footage at EFM.
Simon Gillis, COO of London-based See-Saw Films, concurs with Stewart, pointing to Neon's recent $3m pre-buy for Francis Lee's period drama Ammonite on the eve of Sundance. "It was a pre-emptive strike," says Gillis. "It was strange to be caught up in a bidding war the first week back in the office [after Christmas and the New Year]. I think the reason those players were in the mix is because there is this fear of going to Sundance and being outbid by the streamers."
Foreign-Language Market
Meanwhile, the market for foreign-language films remains complex even if the global success of films like Parasite (having just won four Oscars), Portrait Of A Lady On Fire and Capernaum over the past year have shown there is a theatrical audience for subtitled films.
Gregory Chambet, co-chief of Paris-based sales company WTFilms, cites a tale of two markets.
WTFilms was at Sundance this year with Zoé Wittock's fantasy drama Jumbo, starring Noémie Merlant as a woman who falls passionately in love with a merry-go-round. It will get its European premiere in Berlinale's Generation. The company did not secure a US deal on the spot in Park City but Chambet is confident they will eventually close North American rights.
"There was a lot of hype around a handful of multimillion deals by the streamers but the reality is that for most the films, you're still dealing with the traditional distributors, who are a lot more cautious, meditative, and risk averse in their decisions," he says.
He is cautiously optimistic about the EFM, where WTFilms will launch two genre titles as well as focus on closing international territories for Jumbo.
"EFM has always been an active market for us where historically we've launched genre films on promo and that's always worked well for us," he says. "It's the first market of the year and people are in 'a buying mood' as they kick off their new slates."
Gaetano Maiorino, managing director and head of acquisitions at Rome-based True Colours, is also upbeat. His slate is topped by a trio of recent Italian box office hits: the nativity comedy Once Upon A Time… In Bethlehem, which has drawn some three million spectators for a gross in excess of ($16m); family drama The Goddess Of Fortune, and bittersweet mother and daughter drama 18 Presents.
"It's important for us to have films that have performed well at home. All these films tick that box and have the potential to go beyond the markets that traditionally buy Italian cinema such as Southern Europe and Latin America," he says.
Like Chambet, Maiorino highlights EFM's position in the calendar as the first major film market of the year and also suggests that for non-festival style titles it can offer better sales prospects than Cannes.
"At Cannes, a film that is not in Official Selection gets less attention than in Berlin," he says. "The EFM remains a fundamental market for many buyers."
Sales veteran Ritter at Beta echoes their sentiments.
"It's still possible to sell films on a territory by territory basis but distributors are more cautious," he says. "It's crucial to get the film into one of the five top festivals of Sundance, Berlinale, Cannes, Venice and Toronto and then into its main competition."
"However, if the stars align and you have the right film on your slate, you will be amazed at what distributors can do and how competitive they can be when they want the one thing that everyone wants," he adds, citing the company's experiences with German director Nora Fingscheidt's Berlinale Silver Bear winner and breakout hit System Crasher.