EXCLUSIVE: Former Pathé Live MD appointed CEO of Piece Of Magic Entertainment.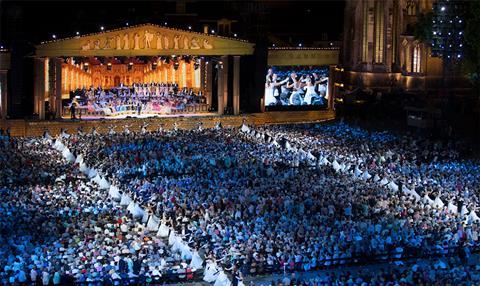 Dutch violinist and conductor André Rieu, whose concerts are a big draw for cinemas, is to launch his own event cinema company which will produce, broadcast and sell its own and third party concerts.
Piece of Magic Entertainment (POM) will launch in July of this year with a series of concert events produced in conjunction with the musician entitled André in Cinemas.
Co-founded by André Rieu, Pierre Rieu and Caspar Nadaud, the company has announced that it will provide its own production studio, post-production facilities and crew.
Pierre Rieu, the current evp of André Rieu Productions BV, will serve as president of the new outfit. Nadaud, formerly Pathé Live MD, has been appointed CEO.
The company will sell concerts directly to distributors and exhibitors and will debut the musician's Maastricht event cinema series at CinemaCon later this month.
Rieu continues to prove a big draw for cinemas and audiences, breaking a number of records in the UK and Europe last year including a single day concert record of £1.2m in the UK.
According to the company Rieu's concerts draw a global audience of more than 600,000 each year and he has sold more than 40 million albums.
The UK's Event Cinema Association estimates that by 2019 the global event cinema sector could be worth $1bn.
Rieu and Nadaud said of today's announcement: "Piece of Magic Entertainment aims to become a market leader in event cinema production and distribution, with a full-service offering, attracting a variety of international artists, organizations and licensors to showcase their work to new audiences through this truly magical medium. We've seen first-hand the power and popularity of event cinema and we look forward to working with André, with his particular expertise in this domain, to take this experience even further".