Pinewood Malaysia CEO Rezal Rahman spoke to Screen during the Asia TV Forum & Market.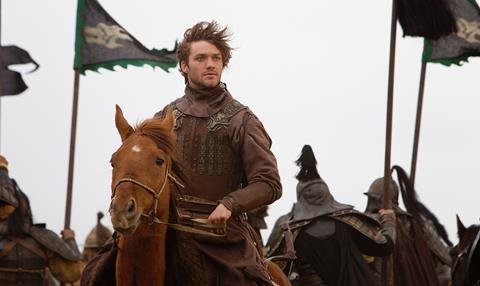 Pinewood Iskandar Malaysia Studios has its sight trained on China after hosting its first Chinese shoot, Lost in the Pacific, earlier this year.
"Malaysian production costs are significantly cheaper than China even without the 30% cash rebates, which only sweeten the deal further," CEO Rezal Rahman told Screen during the Asia TV Forum & Market (ATF) in Singapore.
Directed by Vincent Zhou and starring Brandon Routh and Zhang Yuqi, the English-language 3D sci-fi adventure from China spent 40 days filming at the Malaysian facility and the surrounding areas.
Several aircraft interiors, including the cockpit, and the interior of a ship were constructed in the stages, in addition to sets built on location. Atonement art director Ian Bailie is responsible for the set design and construction.
Rahman aims to lure more Chinese productions to Pinewood Malaysia. "With a 30% ethnic Chinese population, we are culturally compatible. We've Chinese-speaking crew and local Chinese talents and extras, as well as Chinese food," he said. "For joint Chinese-Western productions, the English-speaking population and modern amenities enable Western crew to settle in easily."
Pinewood Malaysia's two TV studios, each with a 1,200 sqm capacity, are now fully operational since early this year. Its first TV show was Asia's Got Talent which filmed its judges' audition there over eight days, while Malaysia's broadcaster Astro is committed to use the TV studios for 13,500 production hours over five years.
Season 2 of Netflix's Marco Polo TV series is due to wrap next week after shooting for more than three months at the facility and its surrounding areas.
The state-of-the-art production facility also features 10,000 sqm of stages, three two-hectare backlots and unique water filming facilities, including a deep water tank and a large 65m x 65m green screen tank. It also provides additional services for productions through its tenants on the lot such as Japanese post-production company Imagica and Red Circle for set construction.
Pinewood Malaysia is located across the causeway from neighbouring Singapore in the southern Malaysia state of Johor, where a good variety of locations are available.
Film Johor was incorporated in February last year as Malaysia's first film commission. It was set up when Pinewood Malaysia highlighted to the Iskandar Regional Development Authority (IRDA) the need to facilitate productions with local authorities such as the police and municipalities as well as providing access to public property and locations.