The Fate Of The Furious crosses $1bn worldwide, while Alien: Covenant passes $100m international mark.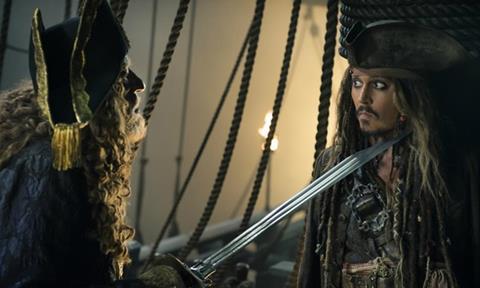 WALT DISNEY STUDIOS MOTION PICTURES INTERNATIONAL
UPDATE: Pirates Of The Caribbean: Dead Men Tell No Tales opened in 91% of the international market day-and-date with North America over the weekend.
Disney's latest tentpole, directed by Joachim Rønning and Espen Sandberg, generated $247.8m internationally in its first weekend of release, while North America brought in $78.2m for a $326m global debut.
The Walt Disney Studios has now crossed $3bn globally in 2017 to date on $3.005bn, with international grosses at $1.903bn and North American grosses at $1.102bn.
Pirates Of The Caribbean: Dead Men Tell No Tales opened at number one in all markets, except in India where it was the number one western film.
China delivered $92.3m, the third-highest three-day opening weekend for any Disney title behind Civil War and Ultron. The film has already exceeded the entire total run of Pirates 3 and Pirates 4 in that territory and will benefit from the Dragon Boat Festival holidays on Monday and Tuesday.
Russia generated $20.9m for the biggest opening weekend in industry history and 84% market share. This is 37% ahead of Pirates 4 opening weekend and already exceeds the entire run of Pirates 3.
South Korea produced $12.3m for a solid 49% market share, placing it just 12% behind the opening weekend of Pirates 4, while France debuted on $9.6m for 52% market share, ahead of Maleficent and The Jungle Book.
The other top grossing markets for the film starring Johnny Depp, Geoffrey Rush and Javier Bardem are Germany on $8.7m, Mexico on $7.3m, the UK on $9.4m, Brazil on $6.3m, Italy on $6.1m, and Australia on $4.8m.
Spain produced $4.8m, Indonesia $4.1m, Taiwan $4.5m, India $3m, and Argentina $3m. Japan will be the last major market to open on July 1.
The 1,088-screen launch of Pirates Of The Caribbean: Dead Men Tell No Tales was the widest in IMAX history and generated $14m at the international box office, the second biggest international IMAX opening in May after Captain America: Civil War.
In China, Pirates will earn an estimated $9m of IMAX box office on 401 screens including results from Monday's start of the Dragon Boat Festival.
Marvel Studios' Guardians Of The Galaxy Vol. 2 added $11.7m during the holiday weekend from 56 territories for $453.2m.
James Gunn's sequel displayed good holds in many markets in its fifth weekend. Franceand Germany dropped 33% and 45%, respectively.
In its third weekend of release, Guardians Of The Galaxy Vol. 2 dropped by 33% in Japan to take its running total there to $7.9m after 18 days.
The top grossing markets are China on $98.9m, the UK on $49.5m, Russia on $27.5m, Germany on $27.1m, Australia on $23.2m, France on $23m, South Korea on $20.7m, and Brazil on $20.6m.
Mexico has generated $18.8m, Spain $9.6m, and Italy $7.9m.
Beauty And The Beast added $4.9m from 20 active territories for $732m. In Japan, Beauty And The Beast earned $4.2m for $87.6m in its sixth weekend, decreasing by 14% from last weekend.
The UK is the top grossing market on $90m, followed by Japan, then China on $85.8m, Brazil on $41.5m, and South Korea on $37.5m.
FOX INTERNATIONAL
UPDATE: Ridley Scott's latest instalment in the Alien franchise Alien: Covenant earned $10m from 77 markets, taking the international total to $100.3m.
Good holds continue in Russia on $1.1m for $6.7m, the UK on $932,000 for $14.4m, Germany on $878,000 for $3.8m and France on $927,000 for $8m. China opens on June 16, while Japan opens in mid-September.
The Boss Baby generated $3.9m from 57 markets for $308.2m. Led by strong holds in Argentina on $491,000 for $7.2m after a 17% drop; France on $303,000 for $23.8m, up 5%; and Germany on $213,000 for $14.3m, down 16%.
Diary Of A Wimpy Kid: The Long Haul grossed $2.4m from 17 markets for $2.7m. The family film debuted in the UK on $1.9m for second place, while the UAE generated $105,000. The film opens in three markets this week, including Germany.
Action-comedy Snatched brought in $1.4m from 12 markets, lifting the international sum to $9.4m.
Australia generated $616,000 and the UK earned $433,000, while Israel added $100,000. The film starring Amy Schumer and Goldie Hawn will be released in Germany and Taiwan on June 16.
WARNER BROS PICTURES INTERNATIONAL
UPDATE: King Arthur: Legend Of The Sword brought in $9.2m from 64 territories, raising the international total to $85m.
The Charlie Hunnam and Jude Law action adventure added $1.1m in France in its second week for $4m, while Brazil added $974,000 for $4m in week two.
Russia added $936,000 for $11.2m, Australia generated $800,000 for $3.1m, and the UK brought in $772,000 for $4.9m in its second session.
Other market running totals are China on $8m, Mexico $5.5M, Germany $4.5m, Indonesia $2.9m, and South Korea $3m. Japan will be the last market to release on June 17.
This week, Warner Bros' Wonder Woman will debut on 1,008 IMAX screens in 57 markets.
UNIVERSAL PICTURES INTERNATIONAL
UPDATE: The Fate Of The Furious crossed $1bn at the international box office on Sunday after adding $3.5m in 41 territories for $1.002bn, which is the third time for Universal and the sixth time in history that a film has reached that milestone.
The film starring Vin Diesel, Dwayne Johnson and Jason Statham stands at $1.225bn worldwide when combined with North America's current gross of $222.9m.
F. Gary Gray's action tentpole is now a member of the international billion dollar club with Avatar, Titanic, Furious 7, Star Wars: The Force Awakens and Jurassic World. Universal has three of the top six international films of all time.
In China, the film has grossed $387.4m (2.7bn RmB) and ranks as the highest grossing foreign film of all time in China.
Top grossing territories are Brazil on $41.6m, followed by the UK on $37.5m, Mexico on $36.3m, Germany on $32.1m, and France on $29.2m.
Russia has reached $29.1m, while South Korea has generated $27m, the Middle East $22.2m, Australia $21.4m, and Taiwan $21.4m.
Jordan Peele's Get Out added $7.3m in 41 territories for an international total of $66.3m. Combined with $175.3m from North America, the worldwide total is $241.6m.
The horror opened at number three on $767,000 in Mexico, behind Pirates Of The Caribbean: Dead Men Tell No Tales and How To Be A Latin Lover.
South Korea is holding at number three in week two on $3.4m, down 49% from last weekend for $12.9m. It is the highest grossing international market for Get Out.
Spain added $666,000 for $2.4m, France brought in $636,000 for $7.1m, and Brazil added $389,000 in week two for $1.5m. There are two territories left to open.
Hanni & Nanni 4, the latest film in the German family franchise, opened in Germany, Austria and German-Switzerland over the weekend, generating $413,267.
SONY PICTURES RELEASING INTERNATIONAL
UPDATE: Smurfs: The Lost Village added $2.2m in 56 markets, raising the international total to $142m. Poland debuted on $1.2m, including previews.