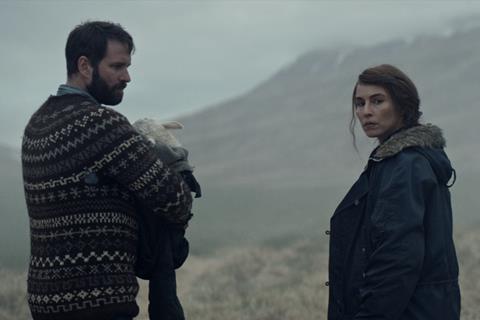 Catherine Corsini's politically-charged ensemble drama The Divide is opening this year's FEST New Directors New Films in Portugal. The comedy drama is set in a Paris hospital at the height of the Yellow Vests protests and won this year's Queer Palm at the Cannes film festival.
FEST is taking place as a physical event from October 4-11 in the coastal town of Espinho.
The Divide is screening out of competition ahead of a line-up of 10 fiction and documentary directorial debuts in the running for the Golden Lynx prize.
In the competition selection is Valdimar Jóhannsson's Lamb, starring Noomi Rapace as a mother who finds herself parenting a strange creature and Teodora Mihai's The Civilian (La Civll) about the culture of violence in modern-day Mexico, particulalry towards women. Both films premiered in Un Certain Regad at Cannes in July.
Zero Fucks Given, the first feature from collaborators Emmanuel Marre and Julie Lecoustre, starring Adèle Exarchoupoulos as a struggling airline hostess, is also in the running. The film premiered at Critics' Week in Cannes.
Two debuts from the International Film Festival Rotterdam 2021 are in the line up: Mighty Flash, directed by first-timer Ainhoa Rodríguez, a portrait at a group of older women living in rural Spain, and Indian filmmaker P.S. Vinothraj's Pebbles about the journey undertaken by an alcoholic father and his estranged young son to pick up his runaway wife.
The competition lineup also includes Shorta directed by Anders Ølholm and Frederik Louis Hviid, a thriller about two policemen in Copenhagen that explores the concepts of police brutality and racism. The film wowed on its debut in the Crticis' Week at the Venice fiilm festival in 2020. Eugen Jebeleanu's Tallin Black Nights premiere Poppy Field, detailing the story of a closeted gay policeman, rounds out the fiction films competing.
Among the documentaries looking to win a Golden Lynx is Dear Future Children, Franz Böhm's feature about a trio of female activists operating in Hong Kong, Chile and Uganda. Böhm's film arrives at FEST having already won the audience award at Hot Docs in Canada and Germany's Max Ophuls Prize Festival.
Also screening is Michał Edelman's Last Knights of the Right Side about the far-right movement in Poland. Edelman is presently studying directing at the prestigious Polish National Film School in Łódź. Closing out the competition is A Way Home, directed by Moroccan diirector Karima Saidi, which details the reunion between the filmmaker and her Alzheimer-suffering mother. Both debuted at the International Documentary Festival Amsterdam (IDFA) in November 2020.
Golden Lynx line-up 2021
A Way Home (Bel)
Dir: Karima Saidi
Dear Future Children (Ger)
Dir: Franz Böhm
Lamb (Ice-Swe-Pol)
Dir: Valdimar Jóhannsson
Last Knights Of The Right Side (Pol)
Dir: Michał Edelman
Mighty Flash (Sp)
Dir: Ainhoa Rodríguez
Pebbles (Ind)
Dir: P.S. Vinothraj
Poppy Field (Rom)
Dir: Eugen Jebeleanu
Shorta (Den)
Dirs: Anders Ølholm, Frederik Louis Hviid
The Civilian (Mex-Bel-Rom)
Dir: Teodora Mihai
Zero Fucks Given (Fr-Bel)
Dirs: Julie Lecoustre, Emmanuel Marre
The Divide (Fr)
Dir: Catherine Corsini