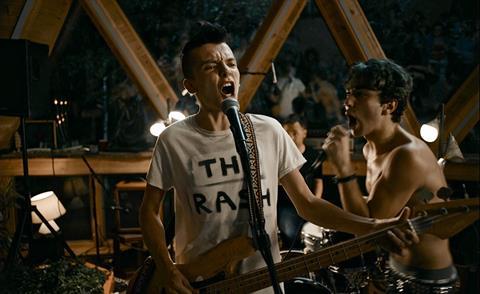 LA-based Premiere Entertainment Group arrives in Berlin with international rights to coming-of-age tale The House Of Tomorrow starring Asa Butterfield, Alex Wolff, Ellen Burstyn, and Nick Offerman.
Peter Livolsi makes his feature directorial debut on the dramedy, which Shout! Factory will release in the US in limited theatres on April 20.
Butterfield, whose credits include Hugo, The Boy In The Striped Pajamas and Ender's Game, plays the lead as a sheltered teenager who lives with his overbearing grandmother and meets another youngster who wants to start a punk band.
Maude Apatow and Michaela Watkins round out the key cast. Livolsi adapted the screenplay from the novel by Peter Bognanni, and Danielle Renfrew Behrens and Tarik Karam serve as producers.
The House Of Tomorrow was made with support from the Sundance Institute Feature Film Program and the Tribeca Film Institute Sloan Fund.
Premiere president and CEO Elias Axume and vice-president of development and acquisitions Carlos Rincon negotiated the deal with the producers.
"After securing our US distribution with Shout! Studios and receiving great festival reactions, we're now thrilled to continue this journey with Premiere Entertainment as we introduce our film to the international market," Behrens said.
"This is a tender yet subversive coming-of-age film with terrific dichotomy between the adults and teens," Rincon added. "It adds a fresh spin setting it apart from the current crop of indie teen films that will make it very appealing to foreign buyers."
Premiere's EFM slate includes drama Forever My Girl, crime-thriller Juvenile starring Blake Jenner and Melissa Benoist, and action sci-fi Incoming with Scott Adkins, which has been completed.