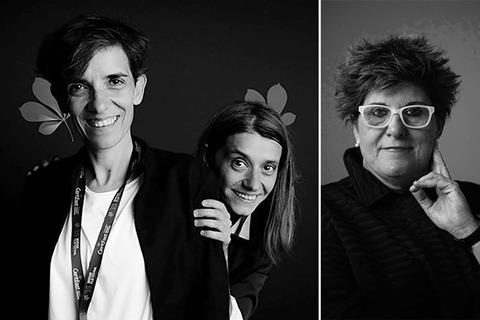 Spanish producer Rosa Bosch was involved in the Mexican New Wave as a co-founder of the Mexico City and London-based sales and production company Tequila Gang alongside Guillermo del Toro and Alejandro González Iñárritu in the late 1990s.
"When we did the rounds of Hollywood, agents would tell us we were too Latin for Hollywood," she recalls.
Two decades later, the industry veteran is once again getting behind rising, emerging talents through a new partnership with Bulgarian directing duo Mina Mileva and Vesela Kazakova.
The directors broke out internationally with their Brexit Britain-set festival hit Cat In The Wall in 2019 and were in Cannes in July with Women Do Cry, which premiered in Cannes Un Certain Regard and features Borat 2 breakout actress Maria Bakalova in the cast.
They were also in Venice this year as the first couple to jointly preside over a major festival jury as co-presidents of parallel section Giornate degli Autori, overseeing the deliberations of the young cinephiles representing the European Union's 27 member states who make up the jury.
"We met through common friends in London and then when they made Cat In The Wall, I was one of the first people to watch the film. When it was selected for Locarno, I helped out with the sales agents," Bosch explained. "The relationship has grown organically since then."
The trio decided to officialise their working relationship in Cannes this year. Under the move, they have created a joint company that will operate under the banner of Activist38, the name of the production company Mileva and Kazakova created in 2008.
The new partnership coincides with long-time London resident Bosch's decision to move back to her native Spain as a result of Brexit, where she also continues to operate under the banner of her existing company B&W Films.
Next level
Up until now, Mileva and Kazakova have been both producing and directing their productions and working with small budgets and compact crews. The aim of the partnership is to take them to a new level in terms of the scope and reach of their work.
"I'm pretty sure I have spotted the right talent. I like their way of working, their desire, ambition and voice. We're doing a partnership to ensure these two new filmmaking voices can have the possible space and structure, in order to safeguard their artistic integrity and make it viable," said Bosch.
Mileva and Kazakova say it is a relief to have Bosch come on board to handle the business side of their work.
"It's a blessing for us. We were getting so exhausted with this sort of guerrilla-type of filmmaking. We couldn't keep producing and directing. It was starting to fall apart," said Mileva.
"She has a good nose for a good film and an intuitive understanding of the business," added Kazakova. "We want to do good filmmaking that we care about that is as global as possible."
As well as developing Mileva and Kazakova's third feature, the details of which are under wraps, the trio is also keen to explore international drama series
"They've never done TV before but it's something we're thinking about," said Bosch, who would like to tap into the trend for European filmmakers directing international series. "Let's say if Ava DuVernay got in contact for them to direct an episode of one of her shows, we'd be interested."
In another sign of the partnership's international ambitions, Activist38 is also a minority co-producer on Spanish filmmaker Avelina Prat's debut feature Vasil with Barcelona-based Distinto Films, which is currently post-production. Award-winning Bulgarian actor Ivan Barnev stars as an idiosyncratic chess champion who leaves his native Bulgaria to live in Spain, where he survives thanks to the kindness of strangers.
Aside from developing new projects, Bosch also plans to explore new revenue streams for the pair's back catalogue of politically-charged documentaries exploring recent Bulgarian history; The Beast Is Still Alive (2016) and Uncle Tony, Three Fools And The Secret Service (2014).
The latter title, about a real-life secret service informer, caused a political storm in Bulgaria, with the authorities pressuring cinemas and European institutions not to show the film.
Mileva and Vesela's first priority, after finishing Giornate degli Autori jury duty in Venice, will be the Bulgarian release of Women Do Cry on September 15.
An ensemble portrait of a group of women from the same family facing separate life challenges, the film was inspired by the events surrounding Bulgaria's 2018 decision to not ratify the international Istanbul Convention aimed at preventing violence against women and domestic violence.
For a time, the duo thought the work was being subject to some sort of unspoken censorship at home when it struggled to find a Bulgarian distributor, and they had been on the verge of organising a protest campaign to raise awareness.
However, Stefan Minchev's major distribution label Alexandra Group acquired Bulgarian rights just as their protest plans were coming together and it is now set to launch the feature on some 40 screens "That's big for Bulgaria," commented Bosch.
The hope in the backdrop is that the feature will be Bulgaria's Oscar submission this year, even if the filmmaking couple continues to be a bête noir for the Bulgarian authorities.
"The dynamics are very interesting, while we were banned we've accumulated a number of supporters," said Mileva.
"The film also has Maria Bakalova in the cast. If you're going to run for the Oscars, there is no bigger name in Bulgaria right now," adds Bosch.