EXCLUSIVE: Creative England backing White Riot, which features footage of The Clash and Joy Division and is being introduced at Sheffield Doc/Fest's MeetMarket.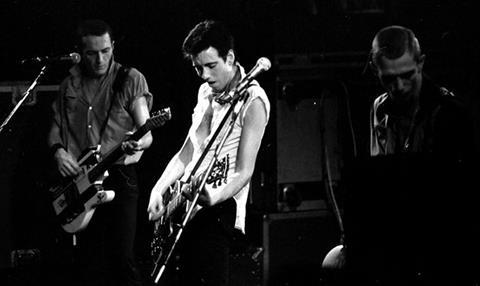 London-based Smoking Bear Productions is at Sheffield Doc/Fest this week with two feature projects in development.
White Riot, about the rise of punk, is being developed with Creative England, who boarded the feature earlier this year following initial discussions at Cannes in 2015.
The film depicts a youth subculture of late 1970s Britain that rose up to tackle the far-right, racist organisation the National Front.
Containing newly unearthed archive footage, the film features performances from bands of the era including The Clash [pictured], Joy Division and The Specials among others.
Producers Ed Gibbs and Rubika Shah of Smoking Bear Productions are in Sheffield seeking potential partners at MeetMarket (June 13-14), which this year sees a total of 64 filmmaker teams from around the world pitch to international and UK decision makers for research, development and production funding.
Separately, Film London is funding a short version of the project, White Riot: London, which will focus on the same subject exclusively in the nation's capital and will act as a companion piece to the feature. The short is in post-production.
David Bowie
Gibbs and Shah are also in production on a feature version of their short film about David Bowie, Let's Dance: Bowie Down Under.
The short, which focuses on the late singer's hit record Let's Dance and his relationship with MTV, premiered at Berlin in 2015 and more recently played at this year's Tribeca and HotDocs festivals.
The feature will be an expansion on the subject of the short, focusing on the period of Bowie's career around the release of his song Let's Dance, which became a hit single in 1983, facilitated in part by the launch of music television channel MTV.
The song's video, which was set in Australia, depicts a young Aboriginal girl called Joelene King dancing in a pub in the outback. The filmmaking team have tracked down King, interviewing her for the film amongst others.
The project has been in development for four years and the team have amassed a substantial amount of footage.