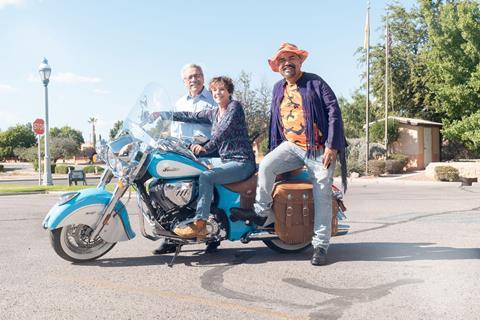 Pure Flix/Quality Flix has introduced international buyers at AFM 2020 Online to new sales title Walking With Herb starring Edward James Olmos, George Lopez, and Kathleen Quinlan.
Ross Marks directed the Optimism Entertainment/Rio Road Entertainment comedy about a man's (Olmos) progress from relative obscurity to a golfing world championship with his faithful motorcyclist friend (Lopez) by his side.
Billy Boyd and Christopher McDonald round out the key cast. Mark Medoff (Children Of A Lesser God) wrote the screenplay to the story, based on the novel by Joe S. Bullock.
Optimism Entertainment's Brian Espinosa, Rio Road Entertainment's Ross Marks, and the late Medoff produced the film, which Optimism Entertainment and Rio Road Entertainment plan to release theatrically in the US in March.
"This film has the rare combination of great writing, great directing, a great cast and a feel-good story," said Pure Flix / Quality Flix VP of international sales and distribution Ron Gell.
"It has tremendous international potential for everyone looking for a charming and heartwarming story, something everyone worldwide needs right now."