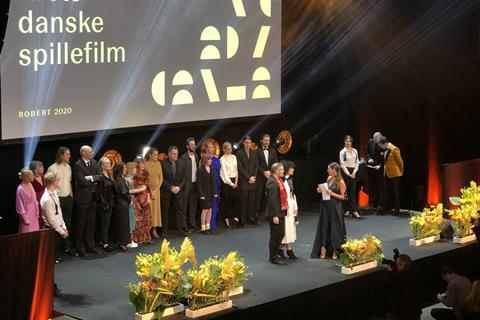 May el-Toukhy's age-gap relationship drama Queen Of Hearts dominated the winners at the 36th Robert awards in Denmark, taking home nine prizes from 17 categories in which it was eligible.
el-Toukhy became the first woman to receive the best director prize since the category was introduced in 2001.
Scroll down for the full list of winners.
Her Sundance 2019 title also picked up best film, best actress for Trine Dyrholm, best supporting actor for Magnus Krepper, and best original screenplay for el-Toukhy and Maren Louise Käehne.
The film's four further prizes were in best cinematography, best editor, best sound design, and best score.
Queen Of Hearts follows a successful lawyer (Dyrholm) who begins an affair with her teenage stepson that comes to threaten her seemingly perfect life.
Daniel, Niels Arden Oplev's biopic of Danish photographer Daniel Rye who was held hostage by Isis in Syria in 2013, picked up four awards including best actor for Esben Smed in the lead role.
Queen Of Hearts was Denmark's entry to the international feature award at the 2020 Oscars, although it did not make it to the shortlist stage. It did win the world cinema – dramatic audience award at Sundance 2019.
Feras Fayyad's Syrian war documentary, which has received an Oscar best documentary nomination, won the equivalent prize at the Roberts.
The awards were presented on Sunday, January 26 by the Danish Film Academy.
Robert Awards 2020 winners
Best feature film - Queen of Hearts
Best Documentary - The Cave
Best Children & Youth Film - Gooseboy
Best Director - May el-Toukhy, Queen of Hearts
Best Original Screenplay - Maren Louise Käehne & May el-Toukhy, Queen of Hearts
Best Adapted Screenplay - Anders Thomas Jensen, Daniel
Best Cinematography - Jasper J. Spanning, Queen of Hearts
Best Editor - Rasmus Stensgaard Madsen, Queen of Hearts
Best Actor - Esben Smed, Daniel
Best Actress - Trine Dyrholm, Queen of Hearts
Best Supporting Actor - Magnus Krepperm, Queen of Hearts
Best Supporting Actress - Sofie Torp, Daniel
Best Set Design - Josephine Farsø, Resin
Best Costume Design - Louize Nissen, Before the Frost
Best Makeup - Sara Sofia Kasper, Resin
Best Sound Design - Oskar Skriver & Nino Jacobsen, Queen of Hearts
Best Score - Jon Ekstrand, Queen of Hearts
Best Original Song - 'One last time' - Hess Is More feat. Okay Kaya, Komp.: Mikkel Hess & Kaya Wilkins, Suicide Tourist
Best Visual Effects - Jonas Drehn & Jan Tvilling,Valhalla
Best English Language Film - Joker
Best Non-English Language Film - Parasite
Blockbuster Audience Award - Daniel