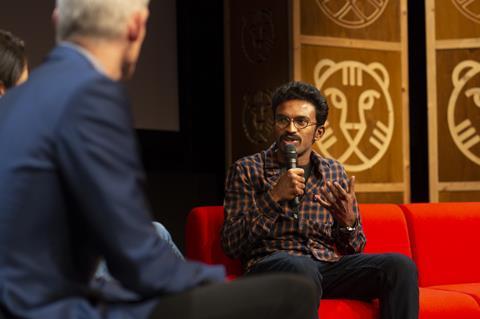 Arun Karthick, director of Rotterdam Tiger Competition title Nasir, said he is "ready to fight and go to court" to secure the uncensored release of the film in India.
Karthick was talking at a press conference for the second group of Tiger Competition directors at International Film Festival Rotterdam (IFFR).
Responding to a question regarding state censorship, Karthick said, "Certainly it did not influence the shooting part, but we are anticipating it."
"After the film plays in many festivals, we will have to censor it to get a local release. Then the censor board might cause a problem. But we are ready for it, we are ready to fight them, and we will go to the court if needed."
Nasir follows an eponymous Muslim man in the southern Indian state of Tamil Nadu, where nationalism is on the rise in several communities, including Muslims and the majority Hindus.
Zheng Lu Xinyuan, director of China-Hong Kong co-production The Cloud In Her Room, said concerns around censorship affected the film before it even entered production.
"We did the film with a very low budget," she said, "so in order to keep freedom of speech, there are certain choices that we made at the very beginning."
"Right now, am I scared if they [the Chinese state] will censor me? So far, not yet," added the director.
Jazmín López, director of Argentinian drama Si Yo Fuera El Invierno Mismo, called for greater political engagement from filmmakers.
"In the 70s, art and politics were very intertwined; for some reason now it's kind of separated. I want to re-enact that to try and bring that type of energy on the stage of art."
The second Tiger press conference was hosted by IFFR artistic director Bero Beyer and programmer Müge Demir.
Beyer, who is in his final edition as director before handing over to Vanja Kaludjercic, noted that "freedom of speech is very relevant" to this year's festival, which has a themed programme on Hong Kong; and offered his "kudos" to the assembled directors.
Alejandro Telemaco Tarraf analysed the importance of sound in his Argentinian drama Piedra Sola – "it's not 50/50, it's 100/100. You can imagine with sound" – while Kim Yonghoon said he was able to secure Korean star and Cannes 2007 best actress winner Jeon Doyeon for crime drama Beasts Clawing At Straws because "for women this character is someone they would like to be like, and for men she's a femme fatale."
The first group of Tiger Competition directors spoke at a press conference on Sunday, January 26. The Tiger Competition titles continue to screen throughout this week, with the IFFR Tiger award presented at the awards ceremony on Friday, January 31.