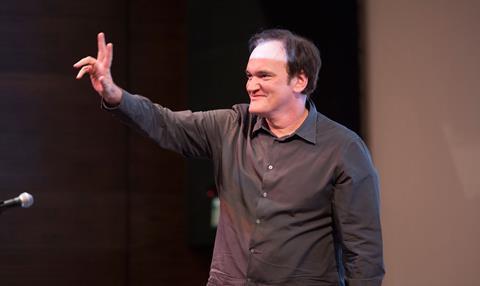 Sony Pictures has prevailed in the auction to finance and distribute worldwide #9, the working title for Quentin Tarantino's upcoming ninth feature in a major coup for chairman of Sony Pictures Entertainment motion picture group Tom Rothman.
The deal comes as filmmakers continue to extract their projects and features from The Weinstein Company, which has been left fighting for its life in the wake of the evolving Harvey Weinstein sex scandal.
Earlier in the week Warner Bros announced it had taken over as North American distributor on Paddington 2.
The Sony-Tarantino deal will mark the first time a feature by the auteur will not open in the US through Miramax or The Weinstein Company. However the filmmaker has worked with Sony before when the studio handled international distribution on Django Unchained.
In a memo to staff sent out on Friday Rothman wrote:
Dear Colleagues,
I am pleased to report that late last night, Sony did indeed succeed in securing the worldwide rights in all media to Quentin Tarantino's next epic film. I was looking forward to sharing the news with you all myself this morning, but unfortunately the story leaked.
Bottom line: Quentin chose Sony over many other competitors. And he did this because of all of YOU! He remembers well the outstanding job the company did on Django, and was particularly impressed last week by the presentation of our marketing and distribution capabilities, both domestically and internationally. I'm grateful to all who worked to make this happen and confident that we will do a great job for him on this film and others to come.
It's a real credit to the studio and to each of you.
Congrats,
Tom Rothman
Chairman Sony Pictures Motion Picture Group.
Tarantino has already written the screenplay to #9, which it is understood takes place in Los Angeles in the 1960s and 1970s and will involve in some part Charles Manson. The filmmakers anticipate a 2018 production start for release in 2019.
Margot Robbie is understood to be circling the role of Sharon Tate, Roman Polanski's pregnant wife who was murdered in 1969 by Manson's cult. Tom Cruise, Brad Pitt and Leonardo DiCaprio have reportedly been in talks linked to the project.
Paddington 2 and Harry Potter universe producer David Heyman recently joined Tarantino as producer on the project.