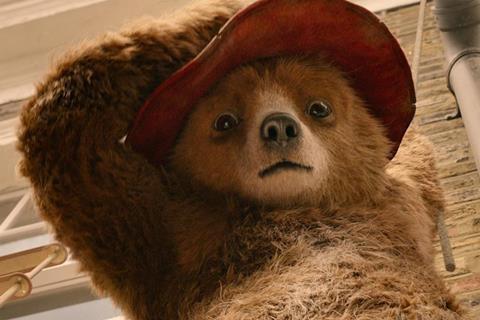 NOVEMBER 15 UPDATE: Warner Bros has acquired North American rights to Paddington 2 following a heated auction that involved other studios and has set a January 12, 2018 release.
Studiocanal fully financed the family film and it was originally scheduled to open via The Weinstein Company, however financiers and producers whose films remain at the embattled company have been scrambling to find new US homes for their content.
Screen understands Warner Bros remains in the hunt for Quentin Tarantino's upcoming ninth feature, which is certainly a possibility now that the studio's longtime collaborator and Paddington 2 producer David Heyman is on board as producer.
Paul King directed Paddington 2 from a script he co-wrote with Simon Farnaby. Hugh Grant and Brendan Gleeson join the returning cast of Hugh Bonneville, Sally Hawkins, Julie Walters, Jim Broadbent, Peter Capaldi, Madeleine Harris, and Samuel Joslin, with Ben Whishaw as the voice of Paddington and Imelda Staunton as the voice of Aunt Lucy.
NOVEMBER 14 ORIGINAL REPORT: The Hollywood scramble to acquire Paddington 2 and Quentin Tarantino's upcoming ninth feature heated up on Tuesday evening (November 14) as the Harvey Weinstein fall-out continued to rock Hollywood.
All the studios are understood to be in the mix and Warner Bros sources dismissed speculation it had emerged as a strong candidate to pick up both films, which recently went back on the market as their filmmakers seek new US distributors in the wake of the sex scandal that has engulfed Weinstein and TWC.
British producer David Heyman, who has worked on the Paddington series for years, is now understood to be on board the Tarantino project in what would be his first collaboration with the American auteur. The Warner Bros speculation is understandable given that Heyman has collaborated with the studio for more than a decade on the Harry Potter universe and also produced Gravity.
Meanwhile Screendaily understands the fate of a third TWC film, Mary Magdalene, will soon become known as See-Saw works frantically behind the scenes to relocate its Rooney Mara-Joaquin Phoenix drama. Insiders suggested Focus Features and Universal are in a strong position as international rights-holder excluding Australia and New Zealand, where Transmission will distribute.
Paddington 2 is a red-hot prospect that proved itself in last weekend's spectacular UK debut that generated $10.8m in a record UK bow for the film's financier and UK distributor Studiocanal.
The original opened in late 2014 and finished on $49.5m in the UK. Paddington grossed $76.3m Stateside via TWC, which combined with $191.8m from international markets for a $268m global haul.
Tarantino's upcoming ninth feature takes place in Los Angeles in the 1960s and 1970s and it is understood Charles Manson is an element of the story, but not the central focus. Deadline Hollywood reported that Tom Cruise, Margot Robbie, Brad Pitt and Leonardo DiCaprio are all circling.
In a not entirely unrelated development, embattled Weinstein and TWC are now being sued by an unnamed actress who filed suit at the Los Angeles County Superior Court on Tuesday alleging rape at a Beverly Hills hotel in 2016. Weinstein "unequivocally" denies any claim of non-consensual sex.