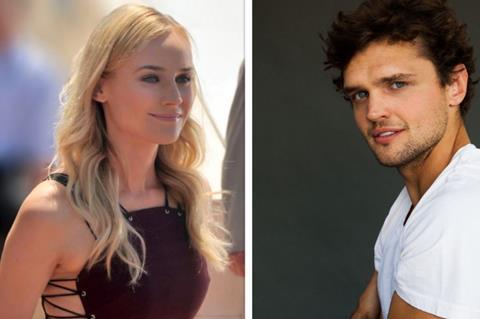 Quiver Distribution continues its push into production with Toronto sales title and upcoming dramatic thriller Out Of The Blue from Neil LaBute to star Diane Kruger and Ray Nicholson.
LaBute (In The Company Of Men, Nurse Betty) wrote and direct the project which is scheduled to commence production this week in Rhode Island. Berry Meyerowitz of Quiver and Tara L. Craig of The Squid Farm are producing, with Jeff Sackman and Larry Greenberg as executive producers for Quiver Distribution, which packaged the project and arranged the film's financing with BondIt Media Capital.
Quiver handles worldwide distribution and will introduce to international buyers during Toronto International Film Festival next month. Executive producers include BondIt's Matthew Helderman, Luke Taylor, and Tyler Gould.
Out Of The Blue Out of the Blue is a contemporary tale of passion, deceit, and violence. When Connor (Nicholson, Promising Young Woman, The Benchwarmers, A Reunion) meets enigmatic beauty Marilyn (Kruger, In the Fade, Inglourious Basterds) he plunges into an adulterous affair unaware that she is trapped in a relationship with an abusive husband and vulnerable stepdaughter.
"Neil LaBute is one of the most ingenious and powerful contemporary filmmakers," said Quiver Distribution co-presidents Meyerowitz and Sackman. "It has been incredible to watch this project take form with the talents of Diane and Ray, and we are eager for filming to begin."
Kruger will next be seen in Universal Pictures' The 355, directed by Simon Kinberg and starring Jessica Chastain, Penélope Cruz and Lupita Nyong'o.
Out Of The Blue marks Quiver's latest foray into production following Walter Hill's Dead For A Dollar starring Christoph Waltz, Willem Dafoe, and Rachel Brosnahan, which is filming in New Mexico.