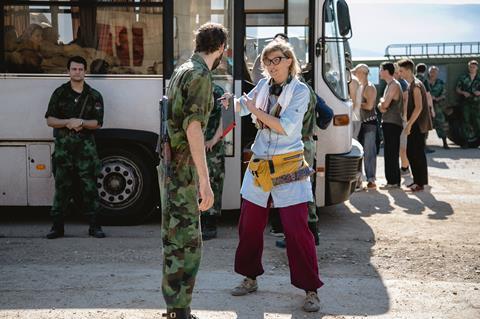 Jasmila Žbanić's Quo Vadis, Aida? picked up the top international prize at a Facebook Live virtual ceremony on Sunday evening (March 14) as this year's Miami Dade College's Miami Film Festival drew to a close.
Žbanić's film walked away with the $25,000 Knight MARIMBAS Award, supported by the John S. and James L. Knight Foundation, the event's international competition strand for new narrative feature films that best exemplify richness and resonance for cinema's future.
Marking its North American debut, Žbanić's multi Bafta-nominated and Oscar long-listed film detailing the frantic plight of a Bosnian translator during the Balkan conflict was the choice of jury members Mollye Asher, Claire Breukel, and Samuel Kishi Leopo. Quo Vadis, Aida? also won the Rene Rodriguez Critics Award.
Roberto Salinas' documentary Cuban Dancer won the $45,000 Knight Made in MIA Feature Film Award, supported by Knight Foundation, for a feature that has a substantial portion of its content in South Florida and best utilises its story and theme for universal resonance. The jury was comprised of Dudley Alexis, Aeden O'Connor Agurcia, and Carmen Pelaez. It was the North American debut for the Italy, Canada and Chile co-production.
US filmmaker Sabrina Doyle's working-class fable Lorelei, picked up the $10,000 Jordan Ressler first feature award, sponsored by the South Florida family of the late Jordan Ressler. The jury for this prize was Kira Davis, Karen Foster and Gonzalo Maza.
The world premiere of Henry Rincón's The City Of Wild Beasts (La Ciudad De Las Fieras), took home the $10,000 WarnerMedia Ibero-American feature film award The jury members were Leslie Cohen, Miguel Ángel Jiménez, and Ingride Santos. The film's editor Raphael Lubzanksi also won the festival's best trailer award.
Composer Paul Corley won the $5,000 Alacran Music In film award, sponsored by Alacran Group, for his work in Riz Ahmed's UK drama Mogul Mowgli.
The winner of the documentary achievement award and the audience award for feature, determined by votes from the festival's public audience, will be unveiled on Tuesday.
Coffee – and martinis
The prize-giving and closing ceremony marked the end of the 38th edition of the festival, staged in a hybrid format, complete with socially-distanced cinema screenings, online filmmaking revelations and virtual interactive conversations. The festival closed with the world debut of Miami artist Jayme Gershen's Birthright.
The festival also saw the return of the Miami Film Festival Mercado Del Cine Frances y Europeo which welcomed sales agents and buyers to a French and European film sales market in collaboration with UniFrance and European Film Promotion (EFP).
"We had great participation from the sales agents and buyers," said festival executive director Jaie Laplante. He noted it had a slightly higher participation than last year because of the convenience of online meetings. "We hosted a wrap-up virtual happy hour event with people in Mexico where it was 11am, people in Argentina and Brazil where it was 2 pm, and folks in Europe where it was 6 pm," Laplante said. "Some people were drinking coffee, some people were drinking martinis."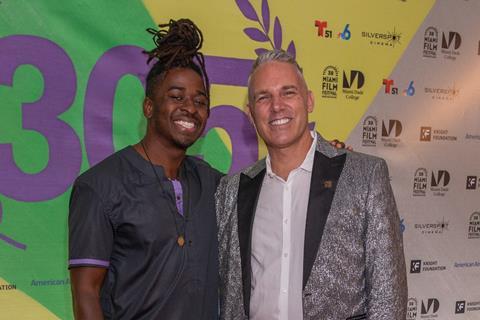 Laplante was confident the festival had reignited the joy of cinema-going and reaffirmed the importance of film culture in Miami and beyond.
"Filmmakers have been happy to be able to screen their movies in a theatre and experience that magic and people who are coming back for the first time, remembering how different it is to watching a film at home," Laplante said. "Film festivals have always helped people define film culture and they will continue to do that. People realise the value of the cinematic experience."
For many it was their first time returning to the cinema since the pandemic began.
"Almost all our screenings in the theatre have been as full as we can be [because of social distancing]," Laplante explained. "Most of the films also had live online casts."
Laplante's personal highlights included hosting the opening night world premiere for Miami artist Edson Jean's Ludi at host venue Silverspot Cinema in downtown Miami. The conversation started off between the director and Laplante but the audience kept steering questions towards the cast. "We ended up having the whole cast come up on stage. Luckily it was a huge stage so we could safely distance everyone and we went down the line and all the cast members talked about what the movie meant to each of them."
Another highlight was his virtual conversation with Žbanić from her European base. "She was talking about who profits from war and provided an invaluable perspective on why conflicts perpetuate in troubled regions across the globe and how artists can help illuminate those ugly realities," Laplante recalled.
All eyes are now on the prospects for a return next year to a full-blown physical event. "I am looking forward to July and the Cannes Film Festival to see how that goes. That is going to be the first test of a major opportunity to launch the international festival circuit again," said Laplante.
Miami Dade College's Miami Film Festival ran from March 5-14.