EXCLUSIVE: Raindance chief picks five films to look out for at the forthcoming festival.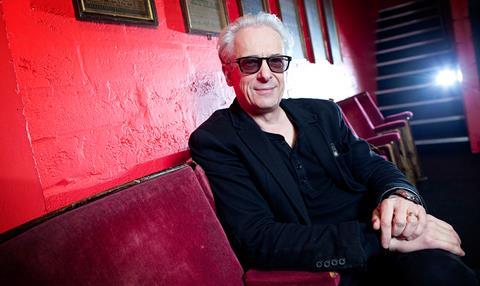 Scroll down for picks
Raindance founder Elliot Grove has selected his five must-see films of this year's edition (Sept 21 - Oct 2), which was unveiled yesterday.
Grove told Screen about this year's selection: "This year, we received a record-breaking number of submissions from 98 countries. This has given our programmers the heart-breaking job of deciding which of the many films submitted should be shown. This has become a huge responsibility. Programmers know that a Raindance screening is a launch pad to Europe and America.
"The Raindance mission is to discover new talent from wherever it comes – and it does arrive from the most unexpected quarters. We also look for deeply passionate and personal stories told in an entertaining manner. We favour extreme topics told in extreme ways – the types of films that don't get made inside the industry system. And of course, we strive to deliver entertaining movies to our audience of independent film lovers.
"Each of our ninety features are worth viewing. It's not easy to pick a shortlist from such a high calibre of films, but below are five that for me, standout as really great pieces of cinema"
Grove's top five:
AFTER ADDERALL, Stephen Elliott, USA, International Premiere (In Competition – Best Feature)
Synopsis: In 2010, James Franco optioned the rights to Stephen Elliott's memoir, 'The Adderall Diaries'. In 2015, the film, directed by Pamela Romanowsky and starring James Franco and Ed Harris premiered at the TriBeca Film Festival. This is a film about the making of the adaptation, directed by Stephen Elliott himself.
DEATH BY A THOUSAND CUTS, Juan Mejia Botero and Jake Kheel, USA/Dominican Republic, European Premiere (In Competition for Best Documentary)
Synopsis: The murder of a Dominican Park Ranger by machete becomes a metaphor for increasing tension between Haiti and the Dominican Republic, as at the time, he was believed to have been on patrol investigating an illegal charcoal production site often run by Haitians coming across the border into protected Dominican forests.
PANAMERICAN MACHINERY, Joaquin Del Paso, Mexico, UK Premiere (In Competition – Best Feature) [pictured]
Synopsis: A run-down construction-machine factory in Mexico City: Maquinaria Panamericana. The employees are happily winding down for the weekend, just like every Friday, except that this day a shocking event breaks their routine: their beloved boss, Don Alejandro, is found dead in the back of the warehouse. Soon this discovery leads to further ones: the company is bankrupt, the workforces have no prospects of employment elsewhere and no hope for any retirement funds. In a state of confusion, fear and grief, they decide to hide his death and lock themselves in their dusty workplace to play out an improbable solution.
THE PEARL,Jessica Dimmock, Christopher LaMarca, USA, European Premiere (Documentary Feature)
Synopsis: Four transgender women come out for the first time in their senior years. Set against the backdrop of logging towns in the Pacific Northwest, this cinematic and observational story is not about becoming a woman, but rather explores what it means to leave behind living as a man.
EL PASTOR (THE SHEPHERD), Jonathan Cenzual Burley, Spain, European Premiere (In Competition- Best Feature)
Synopsis: Shepherd Anselmo lives a poor but happy life in a rundown house with only his dog Pillo and sheep for company. But when he refuses to sell his home and land to a construction company, his way of life is threatened, in this bloody metaphor for corrosive greed.
Raindance's opening and closing night films will be announced on August 30.