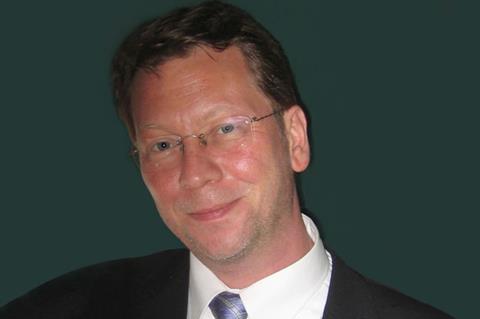 Ralf Ludemann, former box office and online editor of Screen International and Screendaily, has died aged 56. He had suffered from intermittent spells of ill health over the last three years and died following a short illness.
Ludemann joined Screen as box office reporter in March 1990 from Screen Finance, where he did the same job under former Screen editor Terry Ilott. According to former editor Boyd Farrow who started at Screen on the same day, Ludemann's first task was to predict the box office bonanza that My Left Foot would earn from its Oscars triumph.
"We were appointed by then-editor Paul Mungo, who was looking to bolster the team before the imminent launch of would-be rival Moving Pictures, which had poached some Screen staffers," Farrow recalls. "Ralf and I initially reported to Tina McFarling, who was news editor. After just a few weeks, Tina left to join Moving Pictures, and I became news editor and Ralf box office editor."
McFarling, now media advisor, corporate, partnerships and industry of the BFI, remembers a young Ludemann. "He had this great smile, a great chuckle and he just brought sunshine into the office and into our lives. Coming from Screen Finance, he was a serious young journalist, had charm and he always cared about the business.
"His first day at Screen was when the paper was owned by Thomson and we sat on the top floor of a building behind Oxford Circus," she recalls. "It was a new era for the paper with the clever and charismatic Oscar Moore [soon hired as] our editor. Ralf and Boyd were very much our Bob Woodward and Carl Bernstein, or perhaps I should say Robert Redford and Dustin Hoffman, different personalities working their own ways to get their stories. Long after I left Screen, Ralf and I would occasionally have a box office trainspotter natter. He was a good man."
Ludemann quickly made the box office section his own fiefdom.
"He was the only person who had the patience to assemble the charts and the intellect to analyse them in a meaningful way," said Farrow. "He was also the only one in the office who had access to—and understood—the internet in 1997, which made his position unassailable and his number-crunching powers omnipotent.
"Exhibitors and distributors adored Ralf—partly because of his knowledge of the industry's nuts and bolts, partly because of his willingness to let his hair down with them at events such as CineEurope. Both attributes helped him to break his fair share of stories, while retaining more than his fair share of friends."
Ludemann had a lasting impact on everyone with whom he worked.
"Ralf was an enormously popular person in the Screen team and in the industry," said former Screen editor Mike Goodridge who worked with Ludemann throughout the 1990s, and is now artistic director of the International Film Festival and Awards Macao. "As box office editor, he was a well-known figure in distribution and exhibition circles and understood before many people how vital the growing international box office would become for our industry."
Leon Forde, a former deputy features editor at Screen, remembers Ludemann's abundant generosity. "He was loyal, kind, and wildly funny and for many of those who worked with him he became a close friend as well as a respected colleague," said Forde, now associate director at Olsberg SPI. "Ralf will be deeply missed by everyone who had the pleasure of getting to know him."
Ludemann moved into the industry in 1997 to become public relations manager at Warner Village Cinemas. He was closely involved in the exhibition chain's UK expansion, helping to launch the 30-screen Star City venue in Birmingham (now owned by Vue Cinemas), the first multiplex in the country to dedicate specific screens to Bollywood titles.
He returned to Screen to become the title's second online editor of the then-nascent Screendaily.com in 2001, taking over from launch editor Liz Shackleton. Anne-Marie Flynn was the title's publisher at that time.
"Dear Ralf was like Screen's own version of James Dean with the omnipresent ciggie tucked behind his ear or low down between his fingers, those lovely smiling, pale blue eyes and skinny legs in faded jeans. And gone too young," said Flynn, now managing director of the BFI London Film Festival. "I will always remember his laugh which invariably descended into a hacking cough. He was a one-off who lived life to the full."
Ludemann moved to The Hollywood Reporter in 2010 to work as an international copy editor and reunite with former Screen colleague Stuart Kemp, who was then the UK bureau chief of the Reporter.
"Ralf arrived at The Hollywood Reporter and immediately adapted to the nuanced and subtle differences demanded of those working for an Hollywood trade," said Kemp. "Calm and collected in the pressure cooker of trade dailies in market conditions, Ralf quickly established himself as a mensch on the team."
Ludemann left the Reporter in 2013 to work as a freelance journalist for publications including Cue Entertainment.
"He had a lovely sense of humour and an infectious laugh," said Sam Andrews, founder and editor of Cue. "It's so utterly sad."
Ludemann's friends and former colleagues remember a man who loved his work and who also possessed a prodigious capacity for enjoyment.
"His warmth and cackling laughter made working with him such a delight," said Colin Brown, editor-in-chief of Screen from 1998-2008, now managing partner for international relations at pan-Arab studio MAD Solutions. "Ralf was the definition of bonhomie. And he was a constant font of industry knowledge, which he never hesitated to share."
Moyra Lock, now head of marketing for Northern Ireland Screen, met Ludemann during the years she worked in business development for Screen.
"I always thought Ralf was quite exotic, or do I mean, chaotic? His mother had an annual garden party, rather like the Queen, and we all used to troop up to north London every summer, get terribly drunk on warm, sweet German wine, listen to a string quartet, admire the Meissen and the 18th century silver candelabra (yes, they were real) and then pour out into Soho to carry on the party," she said. "Ralf was never a conformist. I loved him, admired him and had some laughs and big adventures, some best left unwritten."
"I remember his curiosity, enthusiasm, and his smiling face popping up from behind the computers," said Patricia Dobson, who worked Ludemann as Screen's reviews editor and Italian correspondent during the 1990s. "And of course his love for playing devil's advocate in any discussion."
"Ralf was beloved by everyone, partly because of his intoxicating sense of mischief," said Farrow. "There was always a glint in his eye and a whisper of a party in his ear. A big beautiful bear of a man, Ralf added stability and gravitas to our dysfunctional family. He was a reassuring presence through many turbulent times, always exhibiting great patience, tact and loyalty."
Ludemann married Jana in 2005, with Lock as his best woman. He is survived by Jana and their twins, Bela and Alex.