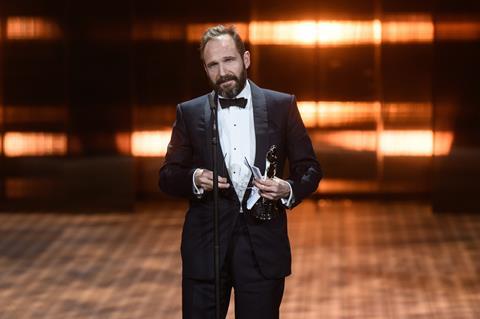 Actor/director Ralph Fiennes, in Seville to accept EFA's European Achievement in World Cinema Award on Saturaday night (Dec 15), criticised the UK's "depressing and distressing" Brexit debate during his acceptance speech.
On stage Fiennes said he had reflected on what it meant to be European. "Is it an instinct, a feeling of belonging? Can I be English and European? Emphatically yes, that is my feeling in my gut. There is arguably a crisis in Europe and our feeling of family, of connection, of shared history, shared wounds – this feeling is being threatened by this discourse of division, a tribal and reactionary vocabulary is among us. It's depressing and distressing to witness debate in my country about who we are in relation to Europe. In England now, there is only voice of division."
He continued, "But filmmaking – the expression within film – can be window for us to see another human being, another human experience. We can celebrate our differences of language, of culture, custom and common humanity the at same time. But the act of seeing another, seeing through a lens – carries with it a vital act of bearing witness. Perhaps if we truly bear witness there can be connection and understanding. I believe filmmakers are unifiers, our work is by definition collaborative, it has to be to survive, we collaborate in our work and we offer a collaboration to our audience."
He said of the film community, "We can be idealists, we can be anarchists, we can be provocateurs. But at this critical time, we mustn't lose our poetic voice, our essential voice, our soul voice. Our films can be songs crossing borders and languages with melodies and harmonies in the form of light and sound and narrative patterns."
It was not the only political speech of the night.
Costa-Gavras, accepting the Honorary Award of the EFA President and Board, added: "Europe is in bad shape, but tonight we can see we can be all together from different countries, from different sensibilities, and different movies, and we can be together and like each other and accept each other. We should continue."
EFA Chairwoman Agnieszka Holland warned that the current political climate was threatening the film industry. "Our freedom as artists and filmmakers are in danger," she said. "There is a growing disrespect for culture and artistic freedom.
"We must not let governments silence us. We must speak up for those who lose their voices." She said that EFA stood with imprisoned Russian director Kirill Serebrennikov.
The White Crow
Before the awards at a public talk on Friday night at Seville's Teatro Alameda, Fiennes discussed his career and screened for a public audience his new film as a director and actor, The White Crow, about Soviet ballet dancer Rudolf Nureyev.
"It became an obsession of mine, I read an account of his defection and it moved me. And also his character, he was a forceful, difficult, driven young man."
He added, "I didn't come [to the film] because of ballet, I came because of a young man … [who is] a force to be reckoned with, he was hungry for all aspects of art. That was the thing that drove me."
Fiennes spoke about different directors he has worked with as an actor. "I've worked with many diff directors and I've tried to be available to their way of working, their vision. For instance I worked with István Szabó who has a precise way of working, and I've worked with Fernando Meirelles who has a loose and surprising way of working, all this is very exciting. As an actor I love to be enabled to discover. The best directors let actors discover, they allow you to try and they gently guide you. Weirdly when I am directing I get a bit insistent. When I catch myself directing other actors, I hope I'm empowering (laughs) I'm still working it out.'
He said he hopes to direct again but hasn't got another directorial project set yet. "I'm learning as a director. I've directed three films and I feel that I'm still discovering very much what it is to be a director. I feel I am still very much as a beginner."
Up next for Fiennes as an actor, he will shoot Matthew Vaughn's Kingsman prequel, he will play M in the next James Bond film to be directed by Cary Fukunaga, and he added, "then I've got a couple of smaller films."