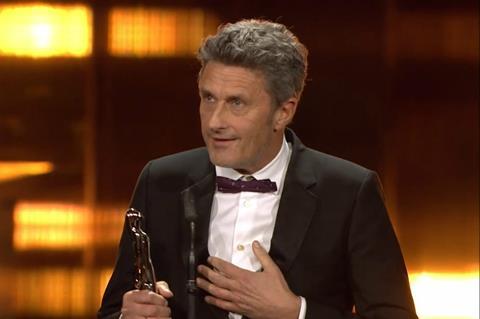 Cold War won best film, best director, best actress (Joanna Kulig) and best screenwriter at the 31st European Film Awards (EFAs), held on December 15, 2018 in Seville.
Scroll down for full list of winners
Pawel Pawlikowski's film previously won best director at Cannes, and had led the EFA nominations with five nods (it only lost out on best actor to Marcello Fonte for Dogman).
The feature was loosely inspired by Pawlikowski's own parents. He said on the night, "I'd like to thank my parents for living a disastrous and ultimately beautiful life."
Cold War is a black-and-white drama telling an impossible love story between a singer and a pianist, set in the 1950s in Poland, Berlin, Yugoslavia and Paris.
Armando Iannucci, winning Best European Comedy for The Death of Stalin, was one of many awardees to mention Brexit at the ceremony. "As the first person from the United Kingdom on this stage, can I say I love Europe, it's a very good idea!" he began.
"This is a European film, I'm Scottish/Italian, we shot mostly in England. We were financed by the French – Gaumont. We did a lot of our post-production in Belgium. We shot a little bit in Ukraine and in Moscow. It just shows what a good idea it is if different countries in Europe come together to work with the British. Let's call it a European community, a European union. It would work very well - I'm going to take the idea back to the United Kingdom this evening," he said to big laughs from the audience.
Belgian writer/director Lukas Dhont won the European Discovery award for the Cannes Camera d'Or winner Girl, about a teenage transgender ballerina. He thanked his collaborators, saying "a very big team of people invested a lot into this film."
He also singled out young lead actor Victor Polster. "When I met him I knew he was going to play this part with so much respect and empathy."
Dhont went on to thank Nora Monsecour, the real-life trans woman who has inspired him since he first met her in 2009. "She's become a personal and professional hero of mine."
Heretic co-founders Konstantinos Kontovrakis and Giorgos Karnavas received the Eurimages Co-production Award 2018. They thanked all the filmmakers and partners they have worked with since setting up the Athens-based production company in 2013. Kontovrakis said of the award, "It makes us feel valued."
Ralph Fiennes received the European Achievement in World Cinema award, honouring his career as an actor and director. The Lifetime Achievement Award went to Spanish actress Carmen Maura. The Honorary Award of the EFA President and Board went to Costa-Gavras.
Fiennes also referenced the disturbance of Brexit. "Can I be English and European? Emphatically yes, that is a feeling in my gut. There is a crisis in Europe and our feeling of family, of connection and of shared history, shared wounds - this feeling is threatened by a discourse of division. It's depressing to witness debate in my country. In England now, there is only the noise of division."
He continued, "But the expression in a film can be a window for us to see another person, another human experience. We can celebrate our differences of custom and common humanity at the same time."
More political warnings
Actress Rossy de Palma began the show at Seville's Teatro de la Maestranza with a flamenco dance, and later sang a riff on Billy Joel song 'Honesty'.
De Palma also made a strong statement about gender equality: "We don't need to ask permission any more…Be strong and love yourselves, women."
EFA Chairwoman Agnieszka Holland warned that the current political climate was threatening the film industry. "Our freedom as artists and filmmakers are in danger," she said. "There is a growing disrespect for culture and artistic freedom.
"We must not let governments silence us. We must speak up for those who lose their voices." She said that EFA stood with imprisoned Russian director Kirill Serebrennikov.
EFA deputy chairman, producer Mike Downey, added that EFA stood with Oleg Sentsov, the imprisoned Ukrainian filmmaker. "From prison, the unbreakable Oleg is directing a feature film based on his play Numbers. Oleg will not give up. And neither will the Academy in its fight for him."
Costa-Gavras, accepting his honour, said, "Europe is in bad shape, but tonight we can see we can be all together from different countries, from different sensibilities, and different movies, and we can be together and like each other and accept each other. We should continue."
EFA 2018 Winners
European Film - Cold War, Dir Pawel Pawlikowski (Pol, Uk, Fr)
European Comedy - The Death Of Stalin, Dir Armando Iannucci (Fr, Uk, Bel)
European Discovery - Prix Fipresci - Girl, Dir Lukas Dhont (Bel, Neth)
EFA People's Choice Award - Call Me By Your Name, Dir Luca Guadagnino (Fr, It)
European Documentary - Bergman – A Year In A Life, Dir Jane Magnusson (Swe-Ger)
European Animated Feature - Another Day Of Life, Dirs Damian Nenow, Raúl De La Fuente (Pol, Sp, Bel, Hun, Ger)
European Director - Pawel Pawlikowski, Cold War (Pol, Uk, Fr)
European Actress - Joanna Kulig, Cold War (Pol, Uk, Fr)
European Actor - Marcello Fonte, Dogman (It, Fr)
European Screenwriter - Pawel Pawlikowski, Cold War (Pol, Uk, Fr)
European Short Film - The Years, Dir Sara Fgaier (It, Fr)
European Achievement In World Cinema- Ralph Fiennes
Lifetime Achievement Award- Carmen Maura
Honorary Award- Costa-Gavras
Previously Announced Excellence Awards
European Cinematographer - Martin Otterbeck For U – July 22 (Nor)
European Editor- Jarosław Kamiński For Cold War (Pol, Uk, Fr)
European Production Designer- Andrey Ponkratov For Summer (Leto) (Rus, Fr)
European Costume Designer- Massimo Cantini Parrini For Dogman (It, Fr)
European Hair & Make-Up Artist- Dalia Colli, Lorenzo Tamburini And Daniela Tartari 
For Dogman (It, Fr)
European Composer- Christoph M. Kaiser And Julian Maas 
For 3 Days In Quiberon (Ger, Aus, Fr)
European Sound Designer- André Bendocchi-Alves And Martin Steyer 
For The Captain (Ger)
European Visual Effects Supervisor- Peter Hjorth For Border (Swe, Den)