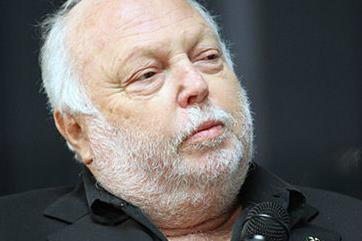 Andy Vajna, the Hollywood producer involved in Rambo, Die Hard and Terminator who went on late in his career to serve as commissioner in charge of the Hungarian film industry, has died aged 74. The news of his death was confirmed on Sunday (20) by the Hungarian National Film Fund.
A colourful, and flamboyant figure who worked as a hairdresser before embarking on his career as a producer, the Budapest-born Vajna was the co-founder of Carolco Pictures with his friend, Lebanese producer Mario Kassar, in the mid 1970s. They were pioneers in the world of foreign sales, financing and distribution. Thanks to the success of the Rambo films, they became a major force in independent production in the 1980s.
In 2011, Vajna was a controversial choice to "clean up" the Hungarian industry after the break-up of the Motion Picture Public Foundation of Hungary (MMKA.) This organisation, set up in 1998 to fill the void left by Soviet-era bodies, was riddled with huge debt and had collapsed. Many in the local industry (including the country's most distinguished directors Bela Tarr and Miklos Jancso) protested against his appointment. They worried that he would introduce Hollywood values to their film culture and were suspicious of his business ventures and seemingly close links to Hungarian prime minister Victor Orban.
"Everybody kind of hates us because nobody is getting it all (the public money) but at least we are putting order to the wreck and nobody is going bankrupt," Vajna commented of the changes that he made. "Banks aren't closing down the producers so I think we've accomplished quite a bit."
Laszlo Nemes' Son Of Saul was backed by the Film Fund at a time when other financiers shunned it. The film went on to win an Oscar. Contacted by Screendaily, Nemes acknowledged fully the part that Vajna played in his emergence as one of the most prominent young auteurs in European cinema.
"Andy Vajna has recreated the Hungarian film landscape," Nemes stated. "His devotion and unquestionable expertise drove Hungary to the forefront of the international film industry, again.
"The Hungarian National Film Fund is one of the most highly respected film support institutions in Europe, still devoted to the plurality of cinematic views and taking risks in their choices. They backed Son Of Saul and Sunset, my first two films. I will always remember Andy with respect and gratitude."
Agnes Havas, CEO of Hungarian Film Fund, said: "Andy Vajna was a true film professional whose competence, devotion and hard work led the Hungarian film industry out of a deep crisis eight years ago. He became a top American producer, but he wanted to give back as much knowledge and expertise as he could, to the film industry of his home country. He became government film commissioner in 2011. He was a workaholic with endless creativity, relentless consistency, great enthusiasm and excellent sense of humor. We at the Hungarian Film Fund will continue working in the same spirit. I will miss him professionally and personally."
Michael Ryan, the chariperson and partner of Independent Film & Television Alliance and GFM Films partner, said: "Andy Vajna has left us. Along with a few other visionaries including his partner in Carolco, Mario Kassar, Andy had a true vision of the independent film world. Starting by importing films into the Middle East and South East Asia, Andy and Mario were part of the group that reinvented the wheel of how to create independent films and were part of the formation of the American Film Market and the Independent Film & Television Alliance (previously AFMA).

"Carolco's breakthrough came with the Sylvester Stallone Vietnam actioner First Blood. I remember waiting in the Principe Savoia in Milan for the arrival of Andy and Mario after the triumphant success in the U.S. of First Blood. The cheers took the roof off that famous bar! The results were enormous worldwide. Their vision changed the perception of independent film. Suddenly we believed that we could produce movies that would compete alongside the major companies. Andy and Mario gave us all the chance to dream."