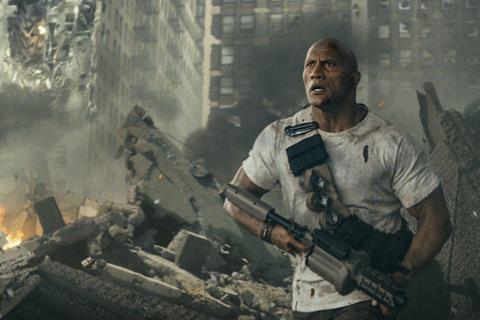 | | | | | |
| --- | --- | --- | --- | --- |
| Rank | Film / Distributor | Weekend Gross (Fri-Sun) | Running Total | Week |
| 1 | Rampage (Warner Bros) | £1.4m | £6.5m | 2 |
| 2 | A Quiet Place (Paramount) | £1m | £8.3m | 3 |
| 3 | The Guernsey Literary And… (Studiocanal) | £824,847 | £824,847 | 1 |
| 4 | Ready Player One (Warner Bros) | £502,000 | £15.4m | 4 |
| 5 | Peter Rabbit (Sony) | £486,000 | £38.9m | 6 |
Today's GBP to USD conversion rate - 1.40
Warner Bros
The UK basked in the country's first spell of warm weather of 2018 and it wasn't good news for the box office this weekend.
Rampage stayed top despite falling a substantial 55%, a drop that was consistent across the majority of titles on releases this weekend. The film added £1.4m and is now up to £6.5m to date.
Ready Player One stayed fourth in the chart, falling 58% with £502,000 taking it to a cume of £15.4m.
US fantasy horror Wilding, starring Liv Tyler, opened in 136 sites with £20,000 for a disappointing site average of £147.
Paramount
A Quiet Place moved up to second this weekend with a gross of £1m and a decline of 46%, the lowest drop in the top 10. Three weeks into its run, the film is now up to £8.3m.
Studiocanal
The Guernsey Literary And Potato Peel Pie Society, directed by Mike Newell, starring Lily James and based on a best-selling novel, opened to £824,847 from 494 sites including previews, placing it third in the chart.
Newell's last effort as a director, the 2012 version of Great Expectations, opened with a softer £544,000 and went on to gross £2.5m. Guernsey could look to eclipse that figure, particularly if it delivers good midweek results by successfully tapping into the UK's older cinema-going audience.
Sony
UK box office sensation Peter Rabbit dropped to fifth in the chart in its six weekend. The film fell 76% this weekend, due to the weather and the end of the school holidays. It added £486,000 from Friday to Sunday and has grossed £38.9m to date.
As Screen reported on Friday, the film became Sony's highest-grossing non-Bond UK release last week.
Universal
In its second weekend, horror film Truth Or Dare fell 57%, adding £400,198 for a cume of £1.7m.
The Leisure Seeker, starring Helen Mirren and Donald Sutherland, opened to a very soft £105,057 from its 376 site, an average of just £279.
US comedy Blockers added £113,309 and is now up to £3.8m.
20th Century Fox
The Greatest Showman retained a place in the top 10 for the 17th successive weekend, falling just one spot to seventh in the chart. The film is up to a total gross £45.4m after adding £304,510 from Friday to Sunday.
One place behind in eighth this weekend was Love, Simon, which dropped 56% in its third week. The film added £274,243 and is up to £3.3m.
Isle Of Dogs fell out of the top 10, sitting 11th with a weekend gross of £159,442 for £5.5m to date.
Disney
Black Panther dropped to ninth in the chart, adding £235,000 over its tenth weekend for £49.9m. The film should cross £50m in the UK by Friday.
A Wrinkle In Time is up to £2.9m after adding £50,000.
Entertainment Film Distributors
Duck Duck Goose was down 68% this weekend, adding £115,644 for £3.4m to date.
Lionsgate
Ghost Stories was down 69% this weekend, adding £84,479 for a cume of £1.5m.
Park Circus
A re-release of musical Grease grossed £300,000 on Thursday, with encore screenings over the weekend taking it to £377,001 from the four-day period.
EONE
Funny Cow, starring Maxine Peake as a stand-up comedian, opened in 62 sites with £74,143, an average of £1,196.
Vertigo
Every Day opened to £36,359 from 131 sites for a disappointing site average of £278. Death Wish is up to £325,450.
Curzon
Let The Sunshine In, Claire Denis' French-language romantic comedy starring Juliette Binoche, opened to £32,515 from its 22 venues. Including previews, the film is on £48,544.
120 BPM has reached £169,088 and The Square is up to £694,619.
Arrow Films
Playing in two cinemas this weekend, A Gentle Creature is now up to £5,414.
On the horizon
Arguably the biggest blockbuster release of 2018 arrive this week on Thursday (April 26) in the form of Disney's Avengers: Infinity War. Competition comes in the form of Michael Pearce's Beast, via Altitude, and John Trengrove's The Wound, via Peccadillo Pictures.