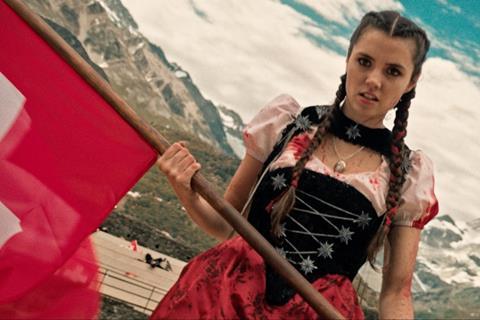 Raven Banner has acquired North American rights to horror-comedy Mad Heidi and is planning an innovative hybrid release on what the producers have described as "the world's first Swissploitation movie".
First-time directors Johannes Hartmann and Sandro Klopfsteinset their story in a dystopian fairytale Switzerland under the fascist rule of a cheese industry tycoon (Starship Troopers' Casper Van Dien) whose reign of terror involves hunting down the lactose intolerant.
After her lover is brutally murdered for smuggling goat cheese into the country, young Heidi (Alice Lucy) descends from the mountains and — following a stint in prison with hardened female bodybuilders — finds her true calling as an ax-wielding, martial arts expert who takes on the despot and his army.
Zurich-based A Film Company raised more than $2m in crowd investment across 19 counties to co-finance Mad Heidi ahead of the global day-and-date release on madheidi.com.
Raven Banner is planning a two-week exclusive theatrical window, after which time the film will stream on its own website starting on December 8 for two months. All earnings from the streaming run will go directly to the filmmakers and their crowdfunded investors. After the streaming window the rights will open up for digital and home video.
Producer, Valentin Greutert said, "Not everyone was open to our release strategy for Mad Heidi. Raven Banner was all in from the first minute. Moreover, they are real fans of the genre. A perfect match for us."
Raven Banner managing partners James Fler and Michael Paszt brokered the deal with Greutert.