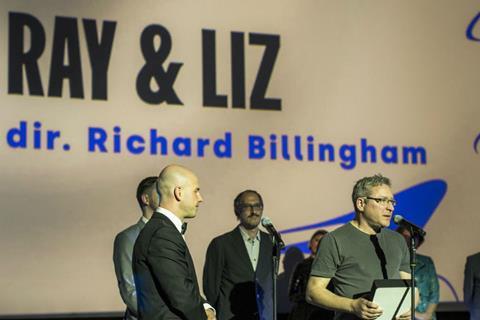 UK filmmaker Richard Billingham's autobiographical feature Ray & Liz was named best film of the European Debut Competition at the 24th edition of the Vilnius International Film Festival (VIFF) in Lithuania on April 7.
Billingham's feature debut - which is being handled internationally by Luxbox - had its world premiere at last year's Locarno Film Festival and has since picked up top awards at festivals ranging from Thessaloniki and Seville to Luxembourg and Batumi.
The best director award was presented to Hungary's Zsófia Szilágyi for her debut One Day which won the FIPRESCI prize in Cannes last year. Lola Dueñas was named best actress for her performance in Celia Rico Clavellino's San Sebastian award-winner Journey To A Mother's Room, and local actor Paulius Markevičius took home the best actor honours for his role in Marija Kavtaradzė's road movie Summer Survivors. The latter was also named best Lithuanian film at the festival's award ceremony at the weekend.
Further awards included the FIPRESCI prize for Danish director Rasmus Kloster Bro's Cutterhead and the audience award was won by Lebanese filmmaker Nadine Labaki's Capernaum. The latter is being released in Lithuania this week by the festival's own distrbution arm KP Distribution.
The festival was staged in 19 cities throughout Lithuania, including Kaunas and Klaipeda, in addition to the capital Vilnius, and had posted a record-breaking 125,000 admissions, up from 2018's total of 116,500.
Industry platform
Only six of the 17 Coming Soon projects in the parallel Meeting Point Vilnius (MPV) industry platform were pitched by director and producers hailing from the three Baltic states, while the rest of the line-up came from countries as diverse as Albania, Belarus, Germany, Hungary Romania, Moldova and Ukraine.
Some international guests expressed reservations about the wisdom of the platform casting its net further afield to also include a project from Portugal – Marta Ribeiro's Undergrown - which seemed out of place at a Baltic event.
Ukrainian director Antonio Lukich won the platform's main award, with a cash prize of €3,000, for his comedy My Thoughts Are Silent, while Karolis Kaupinis' debut Nova Lithuania received won the AVAKA award for best Lithuanian pitch.
Slovakian director Lucia Kasova and her producer Nazarij Klujev picked up the Vilnius Film Cluster post-production award for the documentary The Sailor. It came with €3,500 worth of post services and free accreditation to the Cannes Marché du Film's film industry workshop next month.
Local producer Paulius Juoceris won free accreditation to Cannes' Producers Network after his presentation of Vytautas Puidokas's Lithuanian-Brazilian documentary El Padre Medico.
The 10th edition of MPV saw the launch of a new initiative, Talent Nest, with 21 up-and-coming filmmakers and producers from Central and Eastern Europe, including Georgian writer-director Elena Mikaberidze, Lithuanian producer Brigita Beniusyte, Ukrainian producer Herkaliuk Bohdan and Belarussian director Hanna Shynkevich.
Enhanced filming incentive
Lithuania's new-and-improved film tax incentive scheme, which offers local and foreign film producers a 30% cash rebate on local spend, opened for business last week as the film festival was underway.
Yellow Bird Norge's Occupied TV series and the Finnish TV series Kaamos by Mogul Movies, are the first two international productions likely to benefit from the higher incentive. The previous scheme with a 20% incentive had been launched in 2014 and had supported 115 films, including 31 international productions and 37 co-productions, with a total spend in Lithuanian of over €89m.
The incentive scheme in its new form will be in place until 2023.
Recent productions to shoot in Vilnius and throughout Lithuania include the HBO/Sky TV four-part epic Catherine The Great, starring Helen Mirren and Gina McKee; HBO/Sky TV's five-parter Chernobyl with Jared Harris and Emily Watson; Netflix and Nutopia's six-part series The Last Czars; the Swedish TV series The Conductor; Harald Zwart's first TV production The Oil Fund; and Hans Petter Moland's 2019 Berlinale competition film Out Stealing Horses.