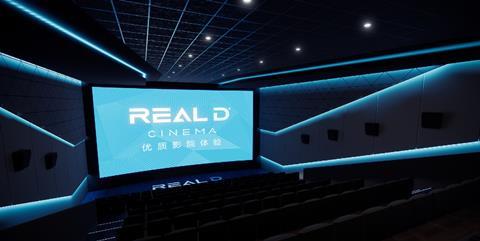 RealD has reached an agreement with China's Red Star Macalline Pictures Development to install its technology in 120 Red Star screens over the next three years.
The agreement includes 15 premium format LUXE and 45 RealD Cinema screens, in addition to 60 auditoria utilising RealD's 3D systems. Red Star previously pacted with RealD for 17 LUXE and five RealD Cinemas across 11 cities in China.
"In the past four years, we have worked in collaboration with RealD to establish 22 premium screens and are delighted with the attendance and incremental box office returns at these LUXE and RealD Cinema venues," said Red Star Macalline president Simon Xu.
"Audiences are choosing premium movie going experiences and RealD's solution has worked perfectly for the development of our cinema business."
RealD provides two premium solutions – large format brand LUXE for screens larger than 16 metres wide, and RealD Cinema for screens between 12 and 15 metres. Both formats incorporate RealD's 3D projector technology and quality management systems. There are currently 106 LUXE screens and 27 RealD Cinema screens operating in China.
Launched in 2013, Red Star Macalline currently operates 68 cinemas with annual box office takings of $116m (RMB800m) across China, with a focus on premium and mid-range clientele. The company aims to increase this to 80 cinemas by the end of 2020.