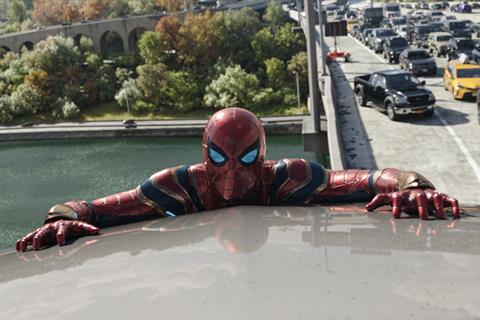 UPDATE: Spider-Man: No Way Home has rocked box office with a franchise-best $260m three-day launch in North America in spite of the pandemic surge to deliver the biggest debut for Sony Pictures. The actual weekend take gives the film the second best industry opening of all time and the biggest December launch.
The tentpole's stellar early performance has seen it race to an estimated $600.8m worldwide, a stunning number after five days as the rise in infections brings back tight restrictions across parts of the world.
That result ranks as the highest bow in the 100+ years since Columbia Pictures was founded and includes $340.8m from 60 international markets without China, which remains unset.

In North America, the superhero vehicle and concluding entry in the Tom Holland trilogy earned $121.9m on Friday, $73.9m on Saturday and $64.2m on Sunday from 4,336 locations including all IMAX and PLF screens.
In the all-time opening weekend pantheon (unadjusted for inflation) No Way Home overtook the $247.9m debut by Star Wars: The Force Awakens from December 2015 and the $257.9m from Avengers: Infinity War in April 2018 and ranks only behind Avengers: Endgame on $357.1m from April 2019.
Tom Rothman, chairman and CEO of Sony Pictures' motion picture group, said: "This weekend's historic Spider-Man: No Way Home results, from all over the world and in the face of many challenges, reaffirm the unmatched cultural impact that exclusive theatrical films can have when they are made and marketed with vision and resolve.
"All of us at Sony Pictures, are deeply grateful to the fabulous talent, both in front of and behind the camera, that produced such a landmark film. Thanks to their brilliant work, this Christmas everyone can enjoy the big screen gift of 2021's mightiest superhero – your friendly neighbourhood Spider-Man."
Jon Watts directed No Way Home. The cast includes Zendaya, Benedict Cumberbatch, Jacob Batalon, Jon Favreau and Marisa Tomei.
In contrast to the antics of Spider-Man, Searchlight Pictures' Nightmare Alley disappointed on $3m from 2,145 sites, ranking fifth. Studio sources said in an emailed report that Guillermo del Toro's noir performed best in a variety of locations including art houses and upscale and mainstream multiplexes.