The directors of Costa Rica's Clara Sola, Mexico's Prayers For The Stolen and Argentina's The Intruder — all submitted to the Oscars by their countries — discuss their strong female protagonists, local support for filmmaking and the impact of their work at home and abroad.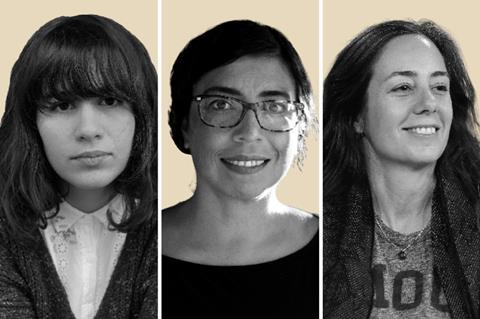 The Latin American submissions to the Oscars' international feature film category are notable for a trio of acclaimed titles from female filmmakers — two making their narrative feature debuts, and all foregrounding complex female protagonists.
Costa Rican-Swedish director Nathalie Alvarez Mesen, whose drama Clara Sola represents Costa Rica, comes from a mime and physical-theatre background and studied screenwriting and directing at Columbia University in New York (she is now based mainly in Sweden). Her feature directing debut stars dancer Wendy Chinchilla Araya as a 40-year-old woman — infantilised by her mother and regarded as a healer in her Costa Rican community — who undergoes a spiritual and sexual awakening. The film premiered in Directors' Fortnight at Cannes and Luxbox handles international sales; Oscilloscope Laboratories has US rights.
Documentarian Tatiana Huezo's first narrative feature Prayers For The Stolen (Noche De Fuego) represents Mexico, and is a coming-of-age story about three girls living in a dangerous mountain region that is terrorised by cartels and the authorities. A year-long casting process saw the production meet 800 girls, choosing three for the characters as young children and three as adolescents — and it took another three months to train them for the film. Netflix holds Mexican, US and select rights and Mubi has the film in parts of Europe. It premiered in Cannes' Un Certain Regard and The Match Factory handles international sales.
Argentina's entry is horror thriller The Intruder (El Profugo), Natalia Meta's follow-up to her 2014 debut Death In Buenos Aires. Erica Rivas (Wild Tales) stars as a dubbing voice actress and chorister who begins to confuse waking life with her dreams after a traumatic episode while on vacation with her partner. The film is available on HBO Max in North America and Star+ in Latin America. Star Distribution handles theatrical distribution in Argentina and Latin America, except for Mexico where it was picked up by Tulip Pictures. The Intruder premiered at the 2020 Berlinale and Film Factory handles international sales.
The filmmakers joined a virtual roundtable with Screen in mid-November to talk about what inspired them to tell their stories, the depiction of women and men in film, and how their work has been received in their home countries.
Screen: Why did you want to tell these stories?
Nathalie Alvarez Mesen Clara Sola has some elements of magical realism and comes a bit from memories of growing up in Latin America in a Catholic society with a patriarchal tradition, and how often it was the mothers and the grandmothers imposing these [norms] and not necessarily the men. So this is kind of a matriarchal house reproducing patriarchal traditions. It's a way to also point the finger at ourselves and open up the door to some sort of view into that process.
Natalia Meta I was very interested in your idea, Nathalie, of how a person who thinks she is able to heal can get in touch with certain aspects of her life such as sexuality. For The Intruder, when I read the novel by CE Feiling [El Mal Menor] I started thinking about this idea of a woman who meets the man of her dreams and her life becomes a nightmare. I thought the movie could be described as the opposite: she meets the man of her nightmares and the characters in her nightmares and her life take on a dreamlike quality. It's quite a central aspect of the film, this idea that we sometimes are afraid of what we usually find in what we call horror films, and what should really be worrying us are the more prosaic experiences of everyday life.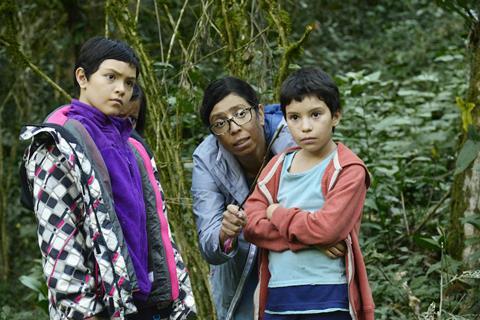 Tatiana Huezo The heart of Prayers For The Stolen is that the girls, especially the main character, realise what it means to be a woman and to be exposed to this brutality. The film talks a lot about the violence that's surrounding them but also about the magic of how being a little bit of a rebel is sometimes good. It's an honest outlook and shows the contrast between their world and the silence in the adult world. I'm comfortable in the world of childhood because I have a daughter who is 10 and is discovering the world. This story came to me through the novel by Jennifer Clement. I've been working for several years with mothers who are looking for their daughters who have disappeared. It's a big tragedy in Mexico — there are 90,000 disappeared people in Mexico and I saw the movie as a window so people could know more about this reality.
Where are the men in the worlds of your films?
Huezo They've gone to look for a living in the US. Women stay in many of the cities or towns in Mexico after the men go. The men in Prayers For The Stolen are absent parents. Latin America is a place where fathers are pretty absent. Mothers in Mexico are the only ones raising their daughters and it's one of the many layers of this movie. I didn't want to depict men as bad role models or simply bad, and nor did I want to represent women in a traditional, clichéd way.
Alvarez Mesen I didn't want to comment on why men are absent — they're just not there within the family except for the young boy who grows up with all these women. I had no interest in portraying the patriarchal forces through men or villain­ising men in any way, but the point is that the patriarchal forces are coming also through women.
Meta There are a lot of men around the protagonist in The Intruder and they are expecting Ines [played by Erica Rivas] to behave in that traditional man-woman relationship. Also the mother wants her to have a certain determined role. But there are also men with whom she feels comfortable and this is important in the film because it's the way we perceive ourselves and masculine elements that can also be part of a woman's life.
How did local audiences respond to your films?
Meta People are cautiously returning to theatres and many have come up to say they're happy they were courageous enough to go to the theatre and see my film.
Alvarez Mesen I was a bit afraid some of the themes of Clara Sola might be taboo in some communities — religious icons being destroyed, for example — but I was very surprised the response was so positive. Even very religious people connected to the character and understood why she needed to free herself from this particular situation… There were some Q&As where women would talk about how they have been ashamed of their sexuality and now they had found a platform to talk about it.
Huezo It has been a very emotional response. Prayers For The Stolen touches on some sensitive topics in Mexico. In some way the Mexican community has become immune to the violence and these terrible stories you see on TV shows or movies or read in the newspapers, and it has removed us from reality. This movie invites audiences to see a more subjective or sensory side to it, and it doesn't have the graphic presence of this violence that you usually see. People want to share what they feel as mothers raising their daughters with such fear in Mexico.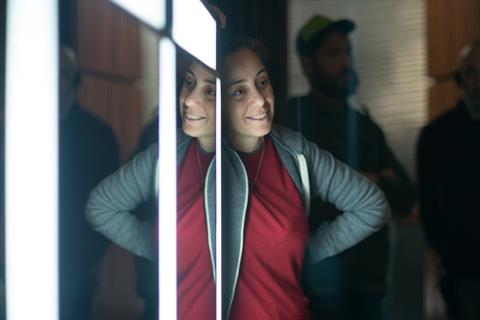 What kind of support infrastructure exists for the filmmaking community in your countries, and did you meet with any resistance?
Meta In Argentina, we have INCAA [public body National Institute of Cinema and Audiovisual Arts] which is a great help with grants for filmmaking. The Intruder is a co-production with Mexico and we also have private funding. In Argentina we're quite lucky because there's a lot of women filmmakers and a lot of women in film in different roles. It's still tough to be a woman in filmmaking and tough to get a film made even if you get funding from INCAA or other grants.
Huezo In the last 10 years there has been an explosion of Mexican movies. It started because of Eficine [the state-backed tax incentive] that allows big companies to deduct taxes by financing movies. We didn't have any restrictions. The movie industry has had the opportunity to be very free. I have done movies that have difficult themes and I have never been told no.
Alvarez Mesen I would say in Costa Rica it's not impossible — because you can make a very low-budget film — but almost impossible to make a feature where everyone gets paid properly just with the support from the government. So co-productions are a must, unless you want to do a lot of product placement. This was able to be a Swedish and Belgian co-production. We have some equity from the US and a US producer and we got support from Belgium and Germany through the World Cinema Fund.
Are you seeing improvement in opportunities for female filmmakers in your countries?
Meta There has been an improvement for women in the last few years. There should be more women in all areas of filmmaking, especially in the decision-making areas in production in film and TV. This is important and it's the place where there aren't enough women now, and where I see less change.
Huezo There's still not equality in terms of women and men producing movies in Mexico. Every year there are more women in the industry but [based on government data] you still see a very important difference of approximately 70% male and only 30% female. One of the reasons [for this disparity] is that we have two incredible film schools in Mexico and both have always accepted more men than women. CCC [Centro de Capacitacion Cinematografica in Mexico City], which is the school I went to, has made it a rule that now the next intake — which is not more than 15 or so people a year — has to be weighted about half female and half male.
What does a US deal mean to you?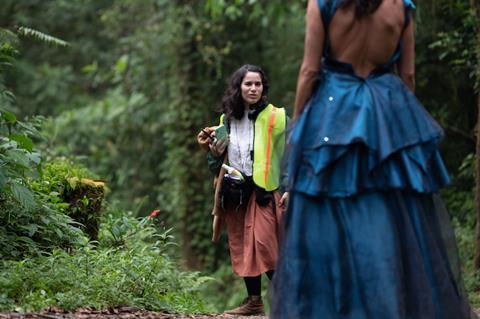 Alvarez Mesen I have been such a fan of [Clara Sola's US distributor] Oscilloscope's work and what it does with films. I studied at Columbia in New York and it's special to be going back to screen [in the US]. It's one of the biggest windows for the industry in the world. I'm looking forward to Clara Sola coming out some time next year.
Huezo We have been lucky because Prayers For The Stolen was shelved months ago due to the pandemic, but once it premiered in Cannes it didn't take Netflix long to buy it. This was a very important step. I have to admit that at first I was a little worried when Netflix got this movie — however, I also think it's amazing such a big audience can watch it because of its massive number of subscribers, and that's very valuable, especially on a story like this. I always say making movies is a miracle so it's important to be able to show our work on different platforms in different places.
Natalia, what are your views on streaming?
Meta I agree it's great we can have movies on different platforms. The Intruder is also going to be on Star+ in Latin America. It's important to have [a plurality of] cinema, we need to have different platforms. I love the movie theatres. I had seen my movie loads of times while working on it, and then I saw it in the theatre and thought, "Oh wow, this is great." People cry in the theatre and I don't know if they're crying when they watch it at home. But the platforms helped people during the pandemic because they couldn't go to the theatre. Platforms play a very important role.
How did Covid affect your films?
Alvarez Mesen We began on February 1, 2020 and finished in the middle of March. It took seven weeks and we finished just as the first [Covid‑19] cases were appearing in Costa Rica. We didn't know what it was, but it was kind of far away from us. We sent all the older people home. We were just very fearful and we finished the last couple of days of the shoot and then we went straight into quarantine.
The producer got out, [but] me and the gaffer got stuck in Costa Rica — which is not a terrible thing after a shoot — for about a month-and-a-half, while in Sweden friends were having parties. It was a weird experience. But we managed to get the film out to Belgium where my editor lives. We saw some delays in post-production but in the end it was okay and we managed to attend Cannes in 2021.
Huezo It didn't affect me directly because I finished the movie in February [2020] and then the pandemic exploded in March. The [shoot] itself was finished but there were some post-production issues that went slowly because of the pandemic. I waited a whole year to show my creation [at Cannes in 2021].
Meta I was lucky because The Intruder premiered in Berlin in February 2020, where I could watch it with thousands of people and go to parties and everything. I arrived back in Buenos Aires thinking I was going to premiere the movie there, and everything closed down in March; it was a long shutdown. Theatres have just reopened and the distributor was very kind because they allowed me to wait and premiere the movie in theatres in Argentina now.