Incentive aimed at combatting piracy in UK cinemas during the release of Spectre, Star Wars and The Hunger Games.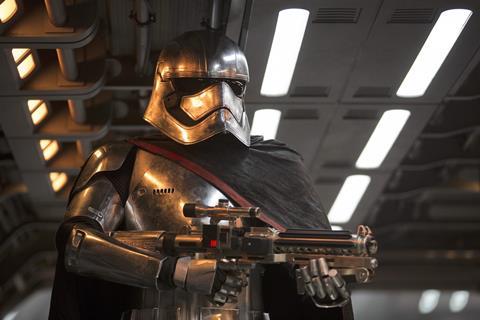 The Film Distributors' Association and the Federation Against Copyright Theft (FACT) have launched an enhanced rewards period for vigilant cinema staff who successfully disrupt illegal recording in UK cinemas.
The maximum reward has been doubled from £500 to £1,000 for cinema staff who prevent and report illegal recording or 'camming' between Oct 23 and Jan 1, 2016 - a period that will see the release of high profile titles including James Bond film Spectre, Star Wars: The Force Awakens and The Hunger Games: Mockingjay - Part 2.
These prizes are offered to staff as part of a film protection programme operated nationwide by FACT and funded by the FDA on behalf of UK film distributors.
It is the first time two double reward periods have been offered in one year; following an earlier period between April and June.
To mark the start of the double prize period, a special ceremony was held at Universal Pictures to recognise and reward 13 cinema employees from across the country for their efforts in tackling film piracy. The staff were all awarded with a cash prize along with a certificate.
The employees, who represented cinemas operators Cineworld, Empire and Odeon, were successful in intervening against illegal cammings of top box office hits including; Fast and Furious 7, Pitch Perfect 2 and Minions.
Collectively, they represented 11 incidents, 10 of which police attended, with four incidents leading to formal cautions and one incident resulting in two arrests.
Since the programme was established in 2006, 160 members of cinema staff have now been rewarded for their vigilance in helping protecting films from piracy.
Mark Batey, CEO of the FDA, said: "From next week through to Christmas, the exceptional run of new releases is highly attractive both to mass-market cinemagoers and, regrettably also, to the networks of copyright pirates who persist in trying to rip off the creative industries and consumers."
Kieron Sharp, FACT Director General, added: "Detecting and disrupting illegal recording in cinemas is a key area of FACT's work to protect the creative content that we all love. Illegal camming is still the source of more than 90% of all pirated films and so our film protection programme is essential to protecting new releases and preventing criminal activity.
"Our creative industries now account for more than 1.8 million jobs and so by supporting cinema staff to identify and take action on those stealing creative content, we not only are protecting the picture on the big screen, but the hundreds of people working behind it to put it there."
Alongside the reward programme, FDA also provides extra resources for FACT to support cinema staff training and online scanning, as well as an ongoing supply of night vision devices to help staff deter recording attempts in situ.
Film theft from cinemas worldwide remains the single biggest source of both illegal copies online and counterfeit DVDs.