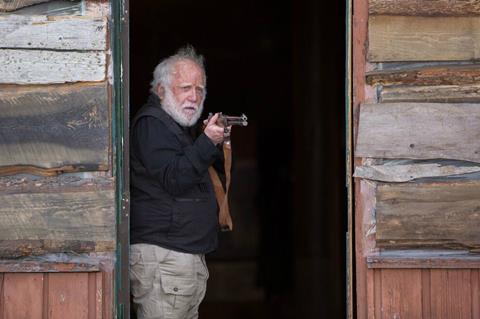 Los Angeles-based VMI Worldwide has scored a number of key territories on Minds Eye Entertainment's EFM kidnap thriller Daughter Of The Wolf starring Richard Dreyfuss and Gina Carano.
Rights have gone in Australia and New Zealand (Eagle Entertainment), Spain (Mediaset), Italy (Funwood), South Korea (Double & Joy), Middle East (Phoenicia), China (Times Vision), Greece (Spentzos), and Asia pay-TV (Fox).
David Hackl (Saw V) directed the feature, the third collaboration between Canadian producer Minds Eye Entertainment and QME Entertainment, about Clair (Carano) a former military specialist whose son is kidnapped by a gang led by a mysterious figure known as Father (Dreyfuss).
When she captures one of the kidnappers they embark together on a journey into Father's Alaskan mountains stronghold to rescue her son. Rounding out the cast are Brendan Fehr as the captured kidnapper, Anton Gillis-Adelman as Clair's son, and Sydelle Noel as a member of the kidnap gang.
Daughter Of The Wolf will open in the US on May 10 through QME Entertainment, a joint venture between Quiver Distribution and Mind's Eye Entertainment that previously released Nicolas Cage thriller The Humanity Bureau and crime mystery Distorted starring John Cusack and Christina Ricci.
Hackl directed from a screenplay by Nika Agiashvili. Producers are Kevin Dewalt, Danielle Masters and Benjamin Dewalt of Minds Eye Entertainment, along with Doug Falconer of Falconer Pictures and VMI Worldwide in association with Invico Capital and The Fyzz Facility.
Executive producers include VMI Worldwide president Andre Relis, Jason Brooks, Allison Taylor, Wayne Marc Godfrey, Robert Jones, Robert Bricker, Marcel Leblanc, Charles Saikaley, Tamer Abaza, Craig Baumgarten, Berry Meyerowitz, Nika Agiashvili and David Hackl.
"We are ecstatic at how the film has come together and elated to bring it to U.S. audiences this May," said Kevin DeWalt, who is also a QME co-founder. "In a rousing time for female leads, Gina Carano delivers a nuanced performance. Doing the bulk of her own stunt work, she created a character who exudes both physical and mental strength. It was also a thrill to work with the incredible film icon Richard Dreyfuss who played our villain so magnificently."
Relis added, "We're delighted to present the film for buyers during the market and highlight the incredible action sequences and the compelling fight Clair embarks on to save her son."