Indiegogo-funded Lazer Team also scores highly, beating Dirty Grandpa.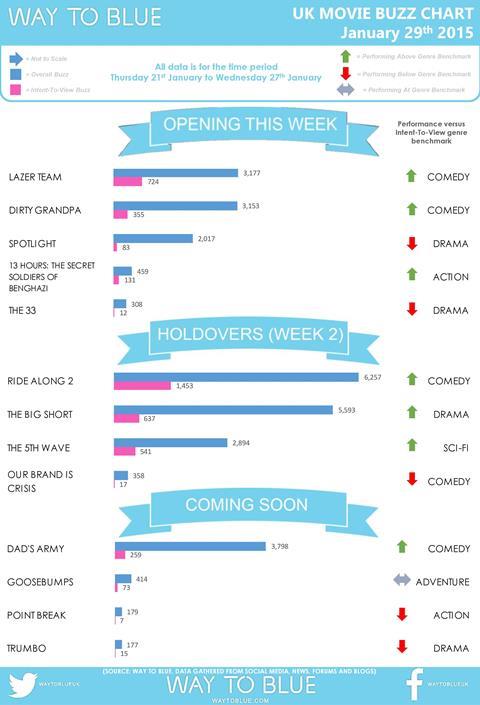 Action sequel Ride Along 2 topped this week's UK buzz chart after a week on release, generating nearly 6,300 comments across social media, news, forums and blogs, according to analysis firm Way To Blue.
A total of 23.2% of those mentions expressed 'intent-to-view', meaning they would look to convert those comments into cinema tickets.
It was followed by Oscar favourite The Big Short, which came close to 5,600 comments (11.4%), also after a week on release.
Of the films opening this week, sci-fi action comedy Lazer Team drew the most attention with nearly 3,200 comments – just ahead of Robert De Niro-Zac Efron comedy Dirty Grandpa but double the intent to view.
Lazer Team is the most-funded film campaign on Indiegogo and was released through on-demand platform Tugg.
Another film opening this week, Oscar contender Spotlight, also generated strong buzz with more than 2,000 comments.
However, the film claiming the third slot overall was Dad's Army, the big screen adaptation of the classic British TV comedy, which drew nearly 3,800 comments following its London premiere this week.