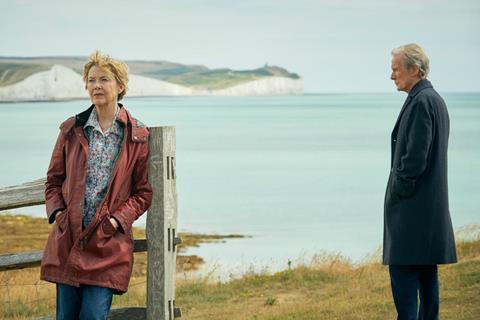 Roadside Attractions has acquired North American rights with Screen Media to William Nicholson's family drama Hope Gap starring Annette Bening, Bill Nighy, and BAFTA winner Josh O'Connor.
Roadside and Screen Media acquired rights from Protagonist and CAA Media Finance, and the distributors are planning a theatrical release in 2020. The film will be distributed by levelFILM in Canada.
Based on Nicholson's Tony Award-nominated play The Retreat From Moscow, Hope Gap charts the life of a woman who is shocked to learn her husband is leaving her for another after 29 years of marriage, and ultimately discovers a powerful new voice.
David M Thompson of Origin Pictures produced the film with Sarada McDermott. Executive producers include Hugo Heppell for Screen Yorkshire, Nicolas D. Sampson and Arno Hazebroek for Sampsonic Media, Gavin Poolman, Alex Tate and Peter Gould for CMI, Norman Merry and Peter Hampden for LipSync. The film was financed by Screen Yorkshire, Sampsonic Media, Creative Media, and LipSync.
Protagonist has licensed the film to several key countries including Curzon in the UK, Tobis in Germany/Austria, Transmission in Australia/New Zealand, A Contracorriente in Spain, Kino Films in japan, SF Studios in Scandinavia, Dutch Filmworks in Benelux, Ascot Elite in Switzerland, and California Filmes in Latin America.
"This really is a very personal story," said Nicholson. "It's loosely inspired by what happened to me and my parents and is about the disintegration of their marriage, and a son trying to save the situation. I am thrilled that our film has been picked up by Roadside Attractions and Screen Media and look forward to working with them in the months ahead."
Howard Cohen and Eric d'Arbeloff of Roadside Attractions said, "Hope Gap is extraordinarily powerful, emotional and loving film and we believe it will hit home for a great many moviegoers who have lived through this experience in their own personal way. The movie is driven by outstanding performances delivered by all three of the leading actors: Annette Bening, Bill Nighy and Josh O'Connor. Each give such layered, nuanced and brilliant performances. We are enormously proud to add William Nicholson's Hope Gap to our 2019 slate."
"William has expertly crafted a really personal and contemplative story, which allows for tour-de-force performances from his top-notch cast," said Seth needle of Screen Media. "Hope Gap has really stayed with us since we saw it, and we know it'll do the same for our audiences. We couldn't be more excited to work with William and our great partners at Roadside to bring it out soon enough."