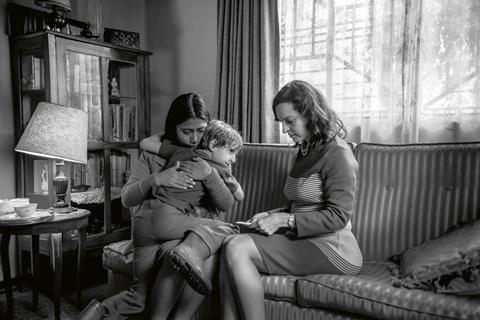 The lack of an adequate independent theatre circuit across parts of Latin America has been brought into sharp focus by regional demand for ROMA, a Ventana Sur panel in Buenos Aires heard on Tuesday (10).
"We have to add more theatres," said Juan Zapata of Brazil's Latinópolis. "With ROMA, there are queues everywhere, great potential for audiences, and we're underestimating it. ROMA is a great example and shows how we can fill up theatres. We have to talk to each other and think about distribution training."
Elba McAllister of Colombian distributor Cineplex agreed. The fellow panellist at the session titled Challenges For Latin American Films In Latin American Theatres said, "ROMA has never happened before. If we take a close look at what's going on we would know there are only 10 independent screens [in Colombia] that will make this movie theatrical."
"We asked our headquarters and said we would be interested in releasing this movie and respect windows, but it was Netflix's decision," added Iván Carubin of Cinemark in Argentina.
The panellists were discussing a perennial theme at Ventana Sur, namely the difficulty Latin American films face when travelling outside their native country within the continent.
Regional dialects and cultural diversity are often cited as reasons as to why films struggle to travel. While that remains true, there was no lack of love in the room for content from other countries in the region. The panel suggested possible solutions, including weekdays dedicated to Latin American and Iberoamerican cinema.
One audience member living in the north of Argentina said he crosses the border into neighbouring Paraguay and Brazil to see films from those countries that do not get shown in Argentina.
Against the backdrop of all this is the overarching truism that Hollywood blockbusters dominate every market. McAllister noted that out of 315 films released in Colombia in 2017, 39 local titles mustered a 3% market share.
Carubin said it was hard to release an Argentinean movie elsewhere on the continent if it didn't star Ricardo Darin. He bemoaned his country's relatively small theatrical footprint – 900 in a country with a population of 45m.
"We're embarrassed about having so little space for these other Latin American movies," said Zapata, in a statement that drew spontaneous applause from attendees.
"In Colombia they're producing great movies but we don't know how to reach out to the audience," Zapata continued. "We need to train the audience. An example: Brazilian movies get three times as much production funding as Colombia or Argentina. Without extra money they're not required to provide subtitles… We need to think about post-production so these movies will travel."
Asked whether productions need more private backing, he replied, "It's a cultural issue. We need to create a space for that."
Zapata moved on to another hot topic – virtual print fees (VPF's). "With the VPF, sustainable movies are being affected," he said. "We continue to have an unsustainable film industry. We should come up with a different model. The Latin American film industry cannot afford a VPF… We're not giving movies a chance to compete in the marketplace.
The session rounded out with a look at the fate of Oscar-nominated Hollywood films in Latin America. "That business has shrunk," said Carubin. "Ten years ago, Oscar-nominated movies were much more commercial like Lord Of The Rings, which resulted in huge business for theatres. Recently, Oscar-nominated movies are smaller, so business is smaller… Take [2017 best picture winner] Moonlight: were it not for the Oscars, that would be a very hard sell."