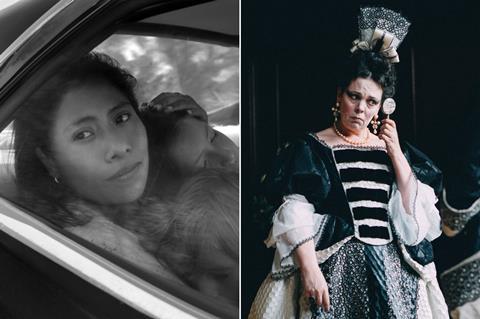 The 72nd edition of the annual Bafta Film Awards saw ROMA take best film and director for Alfonso Cuarón as the Netflix release triumphed over Fox Searchlight's The Favourite in the night's two most prestigious categories.
ROMA also took home the foreign language film prize and the cinematography award for Cuarón. Its wins, off the back of Netflix's emphatic campaigning during awards season, puts it in good stead for the Oscars later this month.
Yorgos Lanthimos' The Favourite did win seven from its 12 nominations a high for the night (it technically could only win 11 because the film was up for best supporting actress twice). Notable victories included best actress for Olivia Colman, who triumphed over this year's SAG Award winner Glenn Close, and in the outstanding British film category.
The film also took the makeup and hair, costume design, production design, supporting actress for Rachel Weisz, and original screenplay prizes.
Presenters, winners denounce Brexit

On the night, returning host Joanna Lumley got proceedings underway by celebrating that the Baftas still has a host, a nod to the Academy's struggles to secure one this year, commenting that it may be because "she's not on Twitter". Some of Lumley's jokes during the evening, however, were noticeably met with a lukewarm reception.
Throughout, the ceremony had a distinctly Brexit flavour to it, with multiple presenters and winners making reference to the UK's impending exit from the European Union. Presenting the original music prize, Andy Serkis commented that "film without music is like Britain without Europe".
Actor Eddie Marsan, presenting the costume design prize, said that the UK was "reinventing its past to justify Brexit". And Elizabeth Karlsen, accepting an honorary Bafta, gave a nod to the funding provided to the UK by Creative Europe, which the UK could leave as early as next month in the event of a no deal Brexit.
Further winners
Bohemian Rhapsody star Rami Malek picked up the night's best actor prize. After his recent SAG win in the same category, he now looks a strong favourite for the Oscar.
Prior to the event, Bafta made the unprecedented move of removing Bohemian Rhapsody director Bryan Singer's name from the film's outstanding British film nomination in response to accusations against the director. In his acceptance speech, Malek thanked a host of people including Dexter Fletcher, who stepped in to direct the remainder of the film after Singer was removed, but made no mention of Singer. On the night, the film also took the best sound prize.
A Star Is Born picked up the original music prize in one of the night's more predictable victories – that was the film's only victory from its seven nominations. Its prize did make Lady Gaga the first woman to win the Bafta music award, credited alongside Bradley Cooper and Lukas Nelson.
First Man was also nominated seven times but left empty-handed, while Vice won one from six (editing), and BlacKkKlansman took one from five (adapted screenplay). Cold War also failed to land a win from its three nominations.
Free Solo won the best documentary prize over a strong field that also included Three Identical Strangers, a front-runner earlier in the season, UK box office hit McQueen, Peter Jackson's They Shall Not Grow Old, and Ruth Bader Ginsburg doc RBG. UK distributor Dogwoof released three of those titles, including the winner.
Spider-Man: Into the Spider-Verse triumphed over Incredibles 2 and Isle Of Dogs in the animated film category, cementing its status as the front-runner for the Oscars later this month. Further nominees to secure their Oscar favourite status with Bafta wins included Green Book supporting actor Mahershala Ali.
Beast writer-director Michael Pearce and producer Lauren Dark scooped the outstanding debut by a British writer, director or producer.
The Rising Star award, the only prize voted for by the public, was taken by Letitia Wright, who rose to fame last year after roles in Black Panther and Avengers: Infinity War. That's now seven years in a row that the winner of that award has been a former Screen Star of Tomorrow. "I was in a deep state of depression… I wanted to quit acting. [What] pulled me out was my faith in god, and an email from Bafta saying they wanted me to take part in Breakthrough Brits," said Wright on stage.
Stephen Woolley and Elizabeth Karlsen, the Number 9 producers whose credits include Carol, took to the stage to receive their outstanding contribution to cinema award. In his speech Woolley, the former chair of the Bafta film committee, joked that he'd been "a pain in Baftas bum for years" and also took the opportunity to remember former Bafta chairman Simon Relph, who died in 2016; Woolley helped to launch a £20,000 talent bursary in Relph's name last year. Karlsen used the moment to back the UK's public bodies, saying that without them, "many of our films would not be possible".
Thelma Schoonmaker, the three-time Oscar-winning editor of Martin Scorsese films including Raging Bull and The Departed, received an honorary Bafta Fellowship.
Women directors were notably absent from key categories in the nominations this year, a sadly familiar tale. When picking up their best production design prize for The Favourite, Fiona Crombie and Alice Felton commented that they "would like to dedicate this Bafta to every woman and working mother who keeps it together and makes it happen".