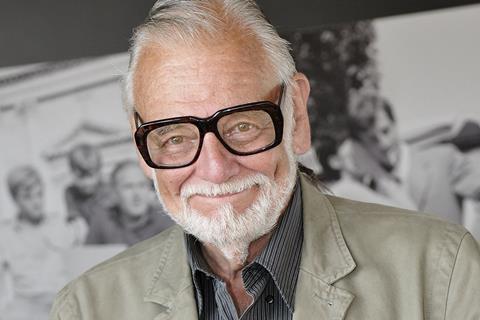 Long-time George Romero collaborator Matt Birman is gearing up for the shoot Road Of The Dead, a new chapter in the zombie universe created by the late horror genre maestro before he died in July.
The pair co-wrote the script for Birman to shoot.
Birman served as 2nd unit director on Romero's last three films Land of the Dead, Diary of the Dead and Survival of the Dead.
This new chapter is set in a near post-apocalyptic time in which the last survivors of humanity have fled to an island, controlled by a despotic General. To keep his island subjects amused and distracted, he organises drag races with zombies, involving a human as bait at the finishing line.
In the backdrop, a genetic scientist is using the contests as a front to develop an antidote that will enable humans and zombies to live together.
Talking about the project just before he died, Romero said that the premise had been suggested by Birman.
"There was a sequence in Survival of the Dead where there's a zombie that's behind the wheel of a car, and Matt Birman proposed an idea: 'How about zombies that remember how to drive!?','' Romero is quoted as saying in a presentation of the film by Elle Driver.
Romero will take a posthumous producer credit on the film alongside Birman, Matt Manjourides and Justin Martell.
The Witch, Patti Cake$ and Pyewacket producer JoBro Productions & Film Finance and EMAfilms (Radius, Turbo Kid) are on board as producers with Elle Driver, Birman, Manjourides and Martell taking executive producer credits.
The production features a number of other Romero collaborators, notably special make-up effects creator Greg Nicotero, co-founder of the Oscar-winning special effects group KNB EFX Group and co-executive producer, supervisor and occasional director on The Walking Dead.
Other additions
Other new additions to the Elle Driver slate include Jérémie and Yannick Renier's joint feature Carnivores, a modern-day Cain and Abel tale starring Leïla Bekhti as a failed actress who covets the success and settled family life of her younger sister, played by Zita Hanrot.
Paris-based Hugo Selignac and Vincent Mazel at Chi-Fou-Mi Productions are producing alongside Luc and Jean-Pierre Dardenne as well as Delphine Tomson. It is currently in post-production.
The company will also launch sales on Vincent Mariette's Savage, thriller about a spate of missing teenagers in the South of France, starring Lily-Rose Depp and Laurent Lafitte, best known internationally for his role in Elle. It is Mariette's second feature after his well-received 2015 Fool Circle (aka Tristesse Club).
It is produced by Amaury Ovise at Kazak Productions, the Paris-based production house behind contemporary dramas such as The Price Of Success and Corporate as well as The Wakhan Front.
Other highlights
Other highlights include Eva Husson's eagerly-awaited Kurdish female fighter epic Girls Of The Sun. The company will show first images for the production which is currently shooting.
A tale of female heroism, sisterhood and resistance, Golshifteh Farahani stars as a woman who abandons her law career to become the commander of a Kurdish female battalion after extremists over-run her home-town, killing her husband and kidnapping her son.
French actress Emmanuelle Bercot, who won Cannes Palme d'Or for her performance in My King plays a journalist who embeds with the women and get caught up in their daily lives. The character is inspired by the late war correspondent Marie Colvin.
Didar Domehri of Maneki Films is lead producing with Wild Bunch (France), Elle Driver (France), Gapbusters (Belgium), 20 Steps (Georgia), Arches Films (France) and Bord Cadre Films (Switzerland) on board as co-producers.
It is the second feature from Husson, after her breakthrough debut Gang Bang. She has promised a modern, female-focused take on the Kurdish female fighters, whose story has captured world attention.
The company will also have the script for Roberto Saviano's big screen adaptation of his Italian bestseller La Paranza Dei Bambini, the explosive exposé of the world of teenage crime bosses in the Naples.
The feature, lead produced by Carlo Degli Esposti and Nicola Serra at Rome-based Palomar are producing, will be directed by Claudio Giovannesi.
Other previously announced productions include Marco Proserpio's documentary The Man Who Stole Bansky exploring the anonymous artist's activities in the West Bank town of Bethlehem. Iggy pop has signed to the voice. Elle Driver will have first images.
The company will also show a promo for Desiree Akhavan's The Miseducation Of Cameron Post, starring Chloë Grace Moretz opposite Sasha Lane as a recently orphaned teenager sent to a conversion therapy centre by her strictly religious aunt.
It will also continue sales on Alexandros Avranas's chilling Greek Island thriller Love Me Not, revolving around the disappearance of a wealthy woman after she forms a close bond with the migrant girl she and her husband hired to be the surrogate mother of their first child, following its premiere at San Sebastian, as well as cannibal documentary Caniba, which premiered at Venice and also drew audiences at Sitges.