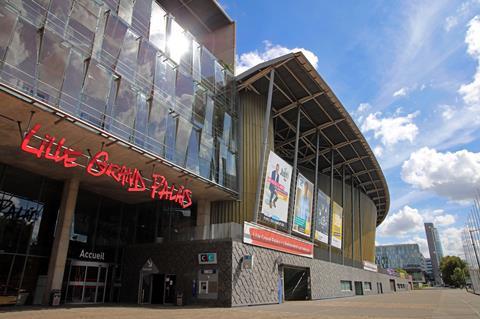 Roskino, Russia's state body for the promotion of the country's film and TV content, has been disinvited from French TV festival and industry meeting Series Mania (March 18-25).
A planned showcase of Russian drama fronted by the agency has also been dropped.
Series Mania managing director Laurence Herszberg told Screen International that Roskino's attendance had been vetoed by the French Ministry of Culture as part of France's measures responding to Russia's ongoing invasion of Ukraine.

"We cannot welcome an official Russian government body at this time," she said.
Screen has contacted the ministry for comment.
The Roskino-backed presentation of new Russian drama was to have taken place as part of the "Coming Next" strand of Series Mania's industry-focused Forum programme, alongside other showcases devoted to series out of France, Quebec and Spain.
Herszberg said individual industry professionals of Russian citizenship could still attend the event but questioned whether they would be able to obtain visas to enter France at this time.
She added that a handful of Ukrainian professionals had also been due to attend this year's edition but that it was hard to see how they too could or would travel to France.
Series Mania traditionally has strong and cordial ties with Russian professionals.
At last year's edition in late August, Moscow-based, Kyiv-born producer Alexander Rodnyansky scooped the €50,000 top prize in the event's Co-producing Sessions, alongside UK writer Matt Jones, for their LGBTQIA+ Moscow-set, Communist era, period drama project Red Rainbow.
Roskino's barring from Series Mania will set a precedent on whether it will be welcome at other film and TV events across Europe, including Cannes's Marché du Film in May, where it usually has a big presence with the Russian Pavilion.
Roskino's footprint on the international stage has grown in recent years. Aside from Series Mania and Cannes's Marché du Film, the body regularly also attends American Film Market, the European Film Market, Cannes Marché du Film as well as MIPCOM and Filmart.
Russia's invasion of Ukraine, which began last Thursday (February 24) has been condemned worldwide.
The country looks set to become increasingly isolated on the sports, cultural and entertainment fronts as governments worldwide ratchet up a range of sanctions in response to the full-scale military attack.
Since Russian troops entered Ukraine, the country has been stripped of a number of sporting events including the Formula One Russian Grand Prix in Sochi in September and football's Champions League final in May, which has been moved from St. Petersburg to Paris.
London's Royal Opera House also announced last week it was cancelling a season of performances by the Moscow-based Bolshoi Ballet company, which was due to have taken place this summer.
Eurovision Song Contest organisers the European Broadcasting Union (EBU) have also barred Russia from taking part in the upcoming edition in the Italian city of Turin in May. It said the inclusion of Russia in the competition into "disrepute". The contest was originally launched in the 1950s to promote cooperation between European countries.