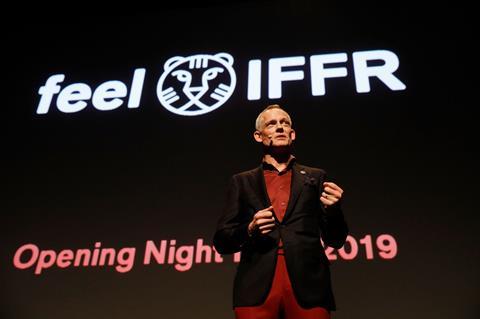 The 48th International Film Festival Rotterdam got underway last night with the sold-out world premiere of Sacha Polak's Dirty God at the city's Schouwburg Grote Zaal.
In his opening speech, festival director Bero Beyer highlighted many of the challenges facing modern society, and discussed how the cinematic medium plays into that discourse.
"It's 2019 and the era of facts - or whatever truth used to be - is definitely behind us," Beyer began. "Yet when looked at with Vulcan-like rationality many developments in the world today do not make any sense."
The challenges he highlighted include the re-emergence of "Cold War tensions", the fact that "we are now under surveillance from governments and each other… all the time", how humanity is "ignoring the utter destruction of a diverse fauna [which] makes a mockery of our self-proclaimed stewardship of earth", and the rise of "so-called strong men [and] their tough guy rhetoric."
Beyer said that while "many things are objectively better than they used to be" and that "humanity seems to have reigned in the worst of famine, plague and war", still "a sense of hysteria remains".
Against that backdrop, Beyer said that cinema remains vital to humanity's wellbeing. "Let's celebrate arguably the most emotional medium there is, the images, sounds and stories we cherish: cinema. When we find ourselves confused, overwhelmed or intimidated… let's just take a moment of silence. And then re-engage with our emotional humanity."
Dutch minister of education, culture and sciences, Ingrid van Engelshoven, and Rotterdam mayor Ahmed Aboutaleb also addressed the crowd at the opening ceremony.
IFFR will screen more than 500 films this year. The opening night film was the world premiere of Sacha Polak's Dirty God, which now travels to Sundance Film Festival to screen this week.
Industry
On the industry side, this year Rotterdam is celebrating 30 years of the Hubert Bals Fund. In the 2019 IFFR programme, there are sixteen films that have been supported by Hubert Bals and IFFR's other funds, including Tarde Para Morir Joven by Tiger Award-winning director Dominga Sotomayor; The Day I Lost My Shadow by director Soudade Kaadan, and The Load, by director Ognjen Glavonić.
Beyer also noted that to mark the 30th anniversary of Hubert Bals, the festival is introducing two new post production awards this year, supported by the Netherlands Film Fund and the Netherlands Post-Production Alliance.
In the festival's industry strand, IFFR Pro, events will include the return of conference Reality Check, and a "freedom lecture" delivered by Agnieszka Holland in support of filmmakers around the world who are detained or prosecuted in their home country.