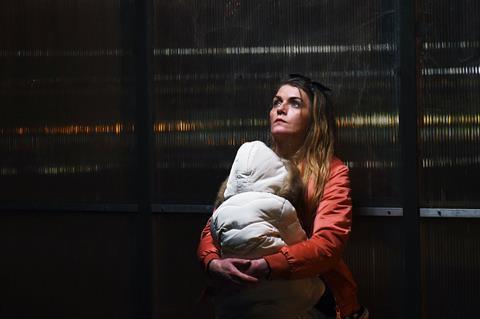 Tonight (Jan 23), Dutch director Sacha Polak's drama Dirty God, about a young British girl who is the victim of an acid attack, opens the 2019 International Film Festival Rotterdam with a sold-out screening at the Schouwburg Grote Zaal.
Director Polak will be in attendance for the premiere in Rotterdam, alongside her leading actress Vicky Knight, producers Mike Elliott and Marleen Slot, co-writer Susanne Farrell, composer Rutger Reinders and actress Dana Marineci. The day after the premiere, the whole team will then be jetting out to the US for the film's international bow in Sundance's World Cinema Dramatic Competition on Jan 26.
Background
Making the film has been a multi-stage process for Amsterdam-based Polak, whose previous credits include Zurich, which premiered at the Berlinale in 2015, and Hemel, which played Rotterdam and Berlin in 2012.
The director's idea for the film's subject began forming several years ago when she was attending a music festival in the Netherlands. In the crowd, she spotted a young woman with scarring on her face. "My first reaction was to look away, and I noticed lots of people were doing that, I thought it was really terrible. She was confronted with it every day of her life. That idea stayed with me for some time," recalls the director.
At the time, Polak was regularly in the UK as she was due to direct Vita & Virginia (the project would eventually be directed by Chanya Button). While there, she visited the Katie Piper Foundation, which works on burns rehabilitation and scar management, with her co-writer Susanne Farrell. "I met loads of young girls with burns and interviewed them. At that point, the subject of acid attacks started to appear more in the news – that was the starting point for the film," she says.
For Dirty God, casting the lead role of Jade was key, and Polak wanted to bring authenticity to the project by finding an actress who could bring real life experience to the part. Casting director Lucy Pardee discovered Vicky Knight - a teenager who had survived a fire as a young girl and was left with scarring - when she found a Youtube video Knight had posted in which she discussed her experience. Initially, Knight was reluctant to engage with director Polak but eventually agreed to a meeting. "I came to meet her and I liked her immediately," remembers the director.
In the build-up to the shoot, Polak and Knight bonded by doing dance lessons together and going swimming, both of which were required for the role. "When the film was ready, she went for it all the way, she was really great to work with and made everyone smile all the time on set," she adds.
In the film, Knight plays a single mother who, following an acid attack from by her ex-boyfriend, looks to reclaim the life she had before. The shoot wasn't easy for Knight, with the film including multiple challenging and intimate scenes. "I think it was sometimes difficult for her, and sometimes really emotional," suggests Polak.
The director highlights several webcam sex scenes as particularly demanding for the young actress, and it was up to Polak to create a safe environment on set that would make Knight comfortable with her performance. "Vicky became my friend, my child, my everything. It's a commitment that you make for life – that's how I see it. We talked a lot about masturbation, I showed her films like Blue Is The Warmest Colour with sexual scenes in them. When we shot the scenes, I talked her through it, making it more technical then emotional," explains the director.
Knight is already attracting buzz for her performance, and Polak believes she definitely will have a future career in acting. Several acting agents have already expressed an interest in signing Knight, but the Dirty God team are making sure nothing happens too quickly. "She's also working as a health care assistant, and I'm really happy she has that job safety," adds Polak.
Co-producing
Dirty God is a co-production between the Netherlands, United Kingdom, Belgium and Ireland, an unusual structure that Polak admits the team were initially cautious about. "It's not easy for a Dutch director to make a film in the UK, it doesn't do a lot of co-production and almost never with the Netherlands."
To help set up the structure, Polak's regular producer Marleen Slot enlisted the UK's Mike Elliott of Emu Films as a co-producer. "He knows a lot about co-productions and a lot in general – it was a great collaboration," says Polak.
The film shot for 33 days, largely in the UK, though shot some interiors in the Netherlands - Polak would have preferred to film those in the UK too but needed to shoot in her home country to unlock co-production money - and also went on location in Morocco for some latter scenes.
The British Film Institute supported the development of the script, but getting production money out of the UK took more time. "The money from the Dutch Film Board, Flanders Audiovisual Fund and the Irish Film Board came first, then the BFI and BBC came in, as well as Eurimages," recalls Polak. "We were worried, but it was actually quite smooth."
UK outfit Independent boarded the project for sales and has since sold UK rights to Modern Films.
The trickiest part of the shoot was the Morocco leg. "We had unexpected problems with camera cranes falling down. We were kicked out of a club by a crazy owner, that cost us a whole day of shooting. Our producer Marleen Slot went to 20 mosques to bring us back some good luck," remembers the director.
Ambitions
Dirty God both opening Rotterdam and playing in Sundance's World Cinema Dramatic programme is likely to raise the profile of director Polak in 2019, but her ambitions remain firmly in the independent sphere.
"I just want to tell stories that I love. For me, filmmaking has nothing to do with making money," the director says on the possibility of looking to work with bigger budgets. "I would love to reach bigger audiences but I also want to make stuff that tries to be as original as possible."
However, Polak recently signed with new representation in the US at ICM Partners, and following her English-language debut, she would consider making a project stateside. "I would like to work in the US but only on the right project for me. I have two children so it would have to be doable for them."