EXCLUSIVE: Bernie Sanders documentary to screen in Locarno on Tuesday.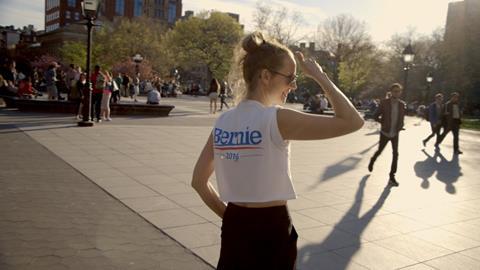 Philipp Hoffmann's Rushlake Media and Elizabeth Sheldon's Juno Films have partnered on their first co-acquisition, taking A Campaign Of Their Own ahead of a screening in Locarno this week.
Rushlake Media has come on board to handle world sales, while Juno will distribute in North America and Australia.
Lionel Rupp directed A Campaign Of Their Own, which examines the 2016 US presidential campaign and the aftermath through the eyes of activist Jonathan Katz.
Michael David Mitchell produced and co-wrote the film, which follows Katz as he rallies behind the primary campaign of Democrat hopeful Bernie Sanders and questions the nomination process once Sanders concedes the nomination to Hillary Clinton.
A Campaign Of Their Own is a Zooscope Production with the support of Cinéforom and Loterie Romande and the support of Swiss Films.
The documentary screens on Tuesday in Locarno's Panorama Suisse section for Swiss films that have not opened in Switzerland. It premiered at Vision du Réel in Nyon and played in Karlovy Vary's documentary competition.
Hoffman and Sheldon said in a joint statement: "In a direct and engaged style that speaks to the originality of the filmmakers, A Campaign Of Their Own captures a crucial moment in recent political history from the point of view of real citizens.

"It's a film that takes us beyond specific events in US politics and really touches on a wider frustration with democracy, and the skepticism people feel towards politics these days. It's about the excitement that Bernie generated at the grassroots level, as well as the difficult but real questions people had to ask themselves once the dream of his presidency faded away."
Rupp previously co-directed the feature Quai Ouest (2012) with his brother Adrien. In 2015 he participated in the omnibus project and Locarno selection Wonderland (Heimatland), which told 10 different stories set in contemporary Switzerland.
Rushlake Media announced two deals with Sheldon's recently launched Juno Films last week, licensing North American rights to Train Of Salt And Sugar by Licinio Azevedo and Cahier Africain by Heidi Specogna – two titles that screened in Locarno last year.