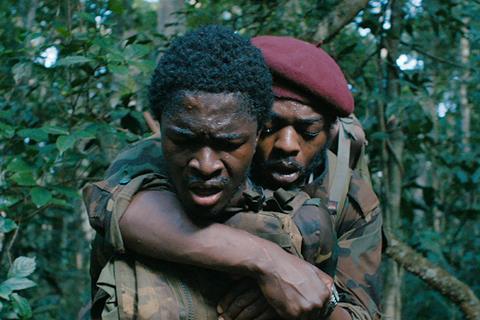 Rwandan director Joel Karekezi's drama The Mercy Of The Jungle, about two soldiers battling for survival during the second Congo War, scooped the top prize at Africa's biennale international film festival Fespaco in Burkina Faso over the weekend.
Fespaco (Pan-African Film and Television Festival of Ouagadougou) was celebrating its 50th anniversary this year and took place from February 23 untl March 2. It is Africa's longest running festival and its Yennenga awards are named after the legendary warrior princess Yennenga who is considered the mother of the Mossi people of Burkina Faso.
A total of 20 films from 16 countries – including Mali, Burkina Faso, Tunisia, Tanzania, Egypt, Ghana, Kenya, Ivory Coast, Cameroon, Mozambique, Morocco, Sudan, Rwanda, South Africa, Algeria, and Nigeria – were in competition.
The Mercy Of The Jungle won the festival's Etalon d'Or de Yennenga for best film and also clinched best actor for co-star Marc Zinga.
The versatile actor, whose other credits include Dheepan and The African Doctor, plays a sergeant who is accidentally left behind in the jungle with a young private and embarks on odyssey across one of the most violent forests on earth to survive. Rising French actor Stéphane Bak co-stars as the young private.
The film, which is sold internationally by French sales company Urban Distribution International (UDI), is produced by Brussels-based Neon Rouge Production and Paris-based Tact Production.
It is Joel Karekezi's second film after his debut feature Imbabazi, drawing on his own experiences during the 1994 Rwandan Genocide against the Tutsis, during which his father was killed and he was forced to flee to the Congo.
Rafiki also feted
In further awards, Egyptian director Khaled Youssef clinched the Etalon d'Argent for his drama Karma, exploring religious and class divides in Egyptian society.
Veteran Tunisian director Mahmoud Ben Mahmoud won the Etalon de Bronze for Fatwa, starring Ahmed Hafiene as a father investigating the life of his estranged son after he dies in a motorcycle accident.
It was produced by Tunisian producers Hatem Ben Miled and Habib Ben Hedi with the Dardenne brothers on board as co-producers under the banner of their company Les Films du Fleuve.
Kenyan director Wanuri Kahui's Cannes 2018 hit Rafiki carried on its award-winning run to clinch best actress for Samantha Mugatsia for her performance as a young teenage girl embarking on a taboo lesbian romance in contemporary Kenya.
The next edition of Fespaco will take place in 2021.