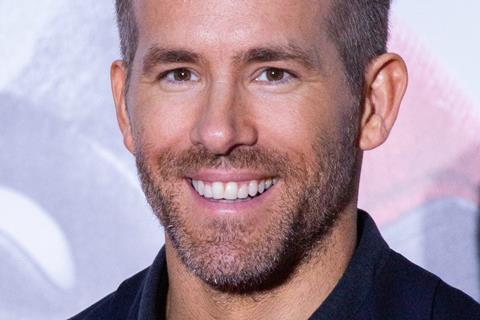 Lionsgate senior brass said on Tuesday (29) that the studio is reuniting with Ryan Reynolds on the comedy Shotgun Wedding, and separately confirmed that the untitled Seth Rogen/Charlize Theron comedy set to open on May 3 is now called Long Shot.
Production on Shotgun Wedding is scheduled to begin shooting this summer. The story follows a couple whose extravagant destination wedding is taken over by criminals. In the process of saving their families, they rediscover why they wanted to get married in the first place.
Reynolds will also serve as producer via his Maximum Effort label alongside Mandeville Films' Todd Lieberman and David Hoberman, the creative team behind Lionsgate's 2017 hit Wonder and Reynolds rom-com The Proposal.
Pitch Perfect's Jason Moore will direct from an original script and pitch by Mark Hammer. Screenwriter Liz Meriwether will also collaborate on the script. Mandeville Films' Alex Young and Maximum Effort's George Dewey are executive producers.
"I haven't done a romantic comedy since The Proposal but I just fell in love with Shotgun Wedding," said Reynolds. "It's so refreshing and surprising. I can't wait to bring it to life with Jason, Todd, Dave and the great team at Lionsgate."
"We've been looking for an opportunity to reteam with Ryan," said said Lieberman and Hoberman. "He's a rare actor who can do it all and we are so excited to have found the right film for all of us. It's great to be working with the talented Jason Moore and our great partners at Lionsgate."
"We feel incredibly lucky to be the home for this extraordinary team of talented people," said Lionsgate motion picture group president Nathan Kahane. "Ryan's trademark wit and action chops have captivated moviegoers around the world, and we have the perfect filmmaker and the ideal property to showcase his incredibly versatile talents. We can't wait to bring our next collaboration with Ryan and the amazing Mandeville creative team to theaters."
Lionsgate motion picture group senior vice-president of production and development James Myers and director of development Brady Fujikawa will oversee the film for the studio.
Reynolds will soon be heard as the voice of Detective Pikachu in Pokémon: Detective Pikachu, and stars in Michael Bay's upcoming film 6 Underground, which is in post.
The Lionsgate slate includes Hellboy, John Wick: Chapter 3 - Parabellum, Long Shot (formerly the untitled Seth Rogen/Charlize Theron comedy, which opens on May 3), acquisitions Midway from Roland Emmerich, and Rian Johnson's murder mystery Knives Out starring Daniel Craig for Thanksgiving. The studio is also developing The Hitman's Bodyguard's sequel with Millennium Films.